If you want to enjoy a luxurious holiday in Bali while taking pictures and enjoying the beautiful panorama of the beach, you can come to Omnia Bali Day Club. 
Omnia Bali is a day club founded in early February 2018 and sponsored by Group Hakkasan, based in Las Vegas, Nevada.
This day club is the first-day club in Bali with the architectural concept designed by WOHA Singapore and New York's Rockwell. 
This day club is built on the limestone cliffs of Uluwatu and becomes the best place to enjoy the nature of Bali with a blue beach full of charm.
Those who want to enjoy the atmosphere of Bali with exclusivity must come to this day club. 
Interested in visiting Omnia Bali Day Club and enjoying the exclusive atmosphere provided? Check out the review here first!
Omnia Bali Day Club – An Exclusive Club In Bali That You Should Visit
Key takeaways:

- Omnia Bali Day Club is a luxurious day club located in southern Bali with a beautiful beach view, designed by WOHA Singapore and New York's Rockwell, founded in early February 2018 and sponsored by Group Hakkasan based in Las Vegas, Nevada.

- The entrance ticket price ranges from Rp 200,000 to Rp 300,000 on weekdays and weekends, respectively, with higher prices for events.

- Omnia Bali has various attractions, including the main bar, pool bar, and cube bar, and offers private bungalows, VIP cabanas, and a restaurant, Sake no Hana.
- Visitors are recommended to adhere to the dress code, wear swimsuits in the main pool, and jeans, t-shirts, and shoes when eating.

- Omnia Bali also has a VIP area, requiring reservations with a minimum spend starting from IDR 3,000,000 ++, with different prices for various seating options and additional fees for exceeding the maximum capacity.

- Visitors can rent a car to get to Omnia Bali, and several hotels nearby, such as Hideaway Villas Bali, Alila Villas Uluwatu, and Banyan Tree Ungasan, offer accommodations for different budgets.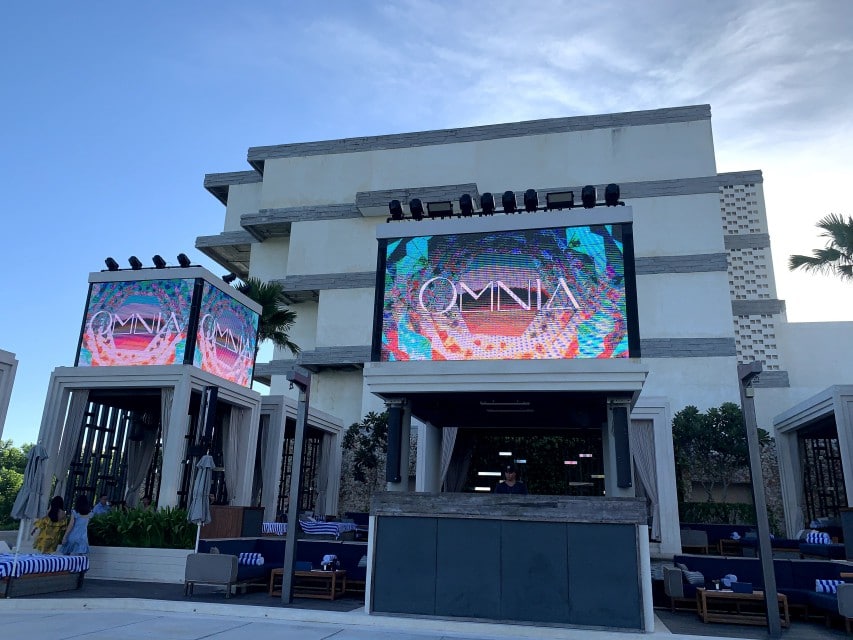 Photo Credit – Fenelix K Paulino Jr

Omnia Bali Address: Jl. Belimbing Sari, Pecatu, South Kuta
District, Badung Regency, Bali 
Omnia Day Club Location on Map: Click here
Omnia Day Club Opening hours: Open from 11.00 to 19.00 WITA 
Omnia Bali Entrance ticket price: Rp 2,00,000 – Rp 3,00,000 (14.00$-20.99$)
1. Where is Omnia Bali? Location of Omnia Beach Club Bali, Uluwatu
Omnia beach club bali is located in southern Bali, precisely in the Uluwatu area, near the Uluwatu Temple in Bali. You can find it on Jalan Belimbing Sari, Banjar Tambiyak, Pecatu Village, Uluwatu Bali. Additionally, the Omnia Club Uluwatu is adjacent to Karma Kandara Beach Bali, Green Bowl beach, and Nyang-Nyang beach Uluwatu.
Let's say you are departing from Bali International airport to Omnia Uluwatu Bali. In that case, you would travel about 18 kilometers with an estimated travel time of 50 minutes. Getting to Omnia Beachclub from the Kuta area will take about an hour and cover approximately 20 kilometers.
2. Opening Hours Omnia Dayclub Bali
Omnia Day Club Uluwatu is open every day, except on Nyepi days, while opening hours on weekdays and weekends vary.
Weekdays, Monday-Thursday: 11:00 – 22:00 (the main deck will close at 20:00).
Weekend, Friday, Saturday, Sunday: 11:00 – closing time adjusts to the event.
For the Sake, No Hana restaurants are open daily from 12:00 – 22:00.
The Omnia Club Uluwatu does not allow online taxis to pick up passengers outside its grounds. If there are no taxis available online, how do I get home? You can use the following options;
3. Transportation To Omnia Bali
To get to your hotel, take local transportation from Omnia Dayclub Uluwatu. It is pretty expensive, however.
The second way is to use the Omnia Club Uluwatu's free shuttle bus. Free shuttle buses are not available every day from Omnia Bali. The buses only run on Fridays, Saturdays, and Sundays. Shuttle buses depart only once a day, at 20:00. Those who like parties may not want to return to their hotel at 20:00.

4. The Best Transportation to Omnia Uluwatu
The best way to get to Omnia Dayclub Bali is by private vehicle. Be sure to have your car ready. To get to Omnia Dayclub Uluwatu, most visitors will use a private vehicle with a driver.
There are several car rental service providers on Bali's island, both with drivers and fuel or with self-driving vehicles. There is parking available at Omnia Uluwatu, close to the Omnia Club entrance.
Is Omnia Day Bali Club worth visiting? Undoubtedly, it is worth visiting. As one of the best places for a luxury holiday, a vacation at Omnia Day Club is indeed very impressive. You'll find a variety of fun.
There you will find a restaurant that is open until 23.00 WIB, Sake no Hana restaurant. However, the price of the menu in the restaurant is quite high. 
Photo Credit – Heinrich D

So if you want to eat or drink at Sake no Hana restaurant, you must first check the price.
For example, Mojito and Cocktail menu is priced at Rp 1,70,000 (11.90$) per glass. Food is also priced at 300 thousand rupiahs (20.99$) for two people. 
Oh yes, if you intend to come to Omnia Bali, you must prepare a fee for the entrance ticket.
On weekdays, the normal ticket price is priced at 200 thousand rupiahs (13.99$), while the normal ticket price on weekends is priced at 300 thousand rupiahs (20.99$). 
If an event has a guest star, then the ticket price will soar in the range of 675 thousand rupiahs (47.23$) up to 1.2 million rupiahs (83.96$).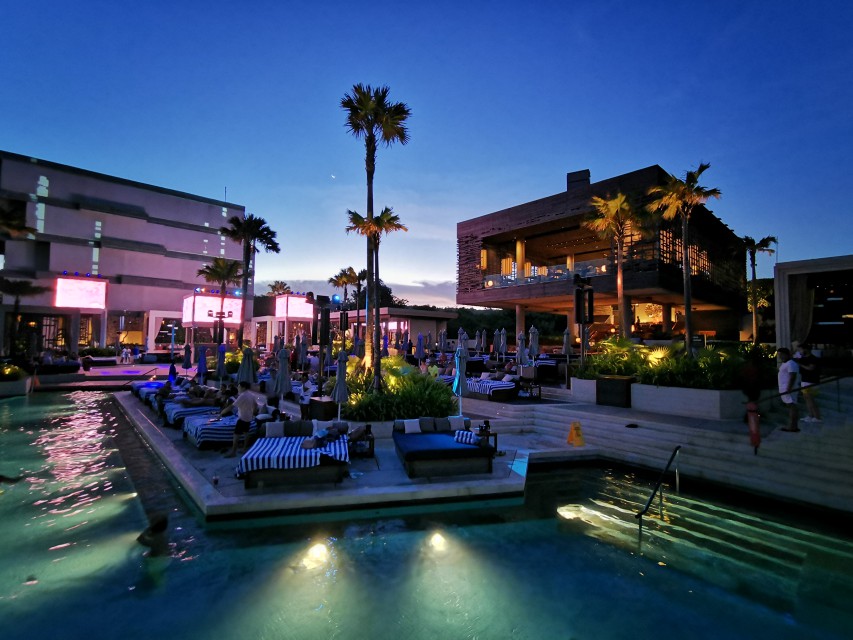 Photo Credit – Ryan Ee

So what exactly can be done in booking tickets to Omnia Bali?
Regarding how you book your tickets, you can book tickets directly when coming to Omnia Bali. In addition, you can book tickets online. 
You can do it on the website ww.omiaclubs.com directly for online ticket booking. If you book tickets online and get lucky, then you can join a party held with the appearance of several invited DJ hits.
To get to Omnia Day Club, you can drive by private car. If you are an immigrant who does not bring a private car, you can rent a car to visit Omnia Bali.
You need to know that taxis or any public transportation cannot reach this location due to the limited access to Omnia Bali. 
For those residing in Bali or renting a car, bringing a private car is highly recommended to enter here without obstacles and comfortably.
Read more: 12 Interesting Tourist Spots To Visit In Bangka And Things To Do
5. Omnia Day Club Bali Attractions
Photo Credit – Omnia Day Club Bali

For those of you who have never come to visit Omnia Bali Indonesia before, you should know that Omnia Bali is a day club with a variety of attractions in it. I assure you that you will be made to feel very comfortable and amazed by all the charms given to you. Therefore, it is a real loss if you do not check out Omnia Bali if you'd like to experience a luxurious atmosphere in Bali.
Speaking of attraction, the attraction owned by Omnia Bali is the main bar, pool bar, and cube bar. Omnia Bali comes with an open concept that presents the charm of a breathtaking sea view. 
The sunbed provided at Omnia is available in the pool area, ready for everyone who wants to relax while taking in Bali's very distinctive sunset.
Photo Credit – Mahmud Yunus

When the sun goes down, tourists will also be presented with a glittering silver cube. The shimmering silver cube is often the background of people's photos and the Cube Bar.
In Omnia Bali, it is also possible to use a casual lounge to chat or chit-chat with family and colleagues – the same is true for Omnia Bali. 
Beside the lounge, there is a restaurant called Sake no Hana, a modern Japanese restaurant.
The restaurant concept is one of elegance accompanied by the charm of the Indian Ocean, which is visible directly inside the restaurant.
You can also stay in an exclusive bungalow equipped with a private pool and VIP Cabanas, which offer beautiful and luxurious facilities perfect for taking instagrammable photos.
Read more: Best Things To Do In Silancur Highland And Top Attractions
6. Dress Code Omnia Uluwatu
Every visitor to Omnia Club Uluwatu recommended adhering to the dress code. This included wearing swimsuits in the main pool. An Indian Ocean backdrop can be seen behind the pool.
You're expected to wear jeans, t-shirts, and shoes when you eat. You don't need to bring towels in terms of towels because Omnia Club guests are provided with towels.
7. OMNIA Dayclub Bali VIP Area Prices
Reservations are required for the front-row daybeds, especially in the summer. To use the daybed, you need to spend at least IDR 3,000,000 ++ (excluding 11% tax and 10% service charge). The daybed price is for weekdays; therefore, daybed prices might differ during events. There can be up to four people on a single daybed.
VIP Area Weekdays Price Table
| Category | Maximum Capacity | Minimum Spend |
| --- | --- | --- |
| Small Bungalow | 15 people | IDR 8,000,000 ++ |
| Large Bungalow | 20 people | IDR 10,000,000 ++ |
| Small Cabanas | 15 people | IDR 8,000,000 ++ |
| Large Cabanas | 20 people | IDR 10,000,000 ++ |
| Daybeds | 4 people | IDR 3,000,000 ++ |
| Dance Floor Sofas | 8 people | IDR 6,000,000 ++ |
| Main Deck Sofas | 6 people | IDR 4,000,000 ++ |
| DJ Sofa | 8 people | IDR 5,000,000 ++ |
| The Cube Sofas | 8 people | IDR 4,000,000 ++ |
| The Cube Daybeds | 2 people | IDR 1,500,000 ++ |
Note On OMNIA Dayclub Uluwatu VIP Area:
Omnia Uluwatu's entrance fee is included in the VIP area minimum spend. Therefore, if you reserve one of Omnia Bali's VIP seating areas, you won't need to pay the entrance fee.
Any VIP area minimum spends listed above can order food and drinks at Omnia Bali. It means that these minimum costs are for food and beverage spending.
If the food and beverage bill exceeds the minimum spending on the VIP area, what happens? You must pay the excess food and beverage fee.
There is an additional charge of IDR 500,000 per person if people's capacity exceeds the maximum capacity. For example, you order The Cube Daybeds with a maximum capacity of two people, and you come with three people. An additional person must pay IDR 500,000.
If you are interested in VIP Area prices during weekends, contact Omnia Dayclub Uluwatu.
Above all, prices and information above can change at any time.
8. What are the Hotels near Omnia Bali Day Club?
If you are from out of town and looking for the best place to stay in Bali, there are several hotels near Omnia Bali Day Club that you can make as a place to stay. Some of the hotels that can be your place to stay:
Hideaway Villas Bali
Alila Villas Uluwatu
Ungasan Cliff Resort
Karma Okamura
Banyan Tree Ungasan
You will have a pleasant and unbeatable stay at one of these hotels. Hotel facilities and accommodations, hotel staff service, and elegant architecture will make you feel more at home.
If you wish to stay at one of the hotels near Omnia, the price might differ. For instance, if you wish to vacation near Omnia with family and rent a villa with several rooms for 5 million rupiahs (349.85$) per villa.
However, you can rent a hotel close to Omnia Bali, starting at 350 thousand rupiahs (24.49$) per room a night on your vacation. Just choose the one that suits your needs.
Those who want to hang out in Luxury Omnia Bali just come directly there and get the exclusive atmosphere. Make your holiday fun and exclusive in Bali by hanging out at Omnia. 
Have a safe and enjoyable trip!!
Featured Image Credit: Jasper Tan