Hey, you! Yes, you, the one who is reading the article, are you the one who has been planning a quintessential trip to the grand city of Anchorage? 
Or have you just dropped your tour plan and stepped back as you don't know how to explore the city without a car? Or are you worried about the costly Anchorage car services?
Well then, you have just landed on the right article, as today we'll be providing one-stop solutions for your trip to Anchorage and the top things to do in Anchorage without a car and, of course, without breaking the bank! So what are we waiting for? Let the Anchorage magic begin!
Table of Contents
Also Read: 

20 Things To Do In Austin Texas Without A Car

16 Things To Do In Nantucket Without A Car

17 Best Things to Do in Virginia Creeper Trail

Things To Do in Anchorage Without a Car
1. Go for a walk to enjoy the beauties of nature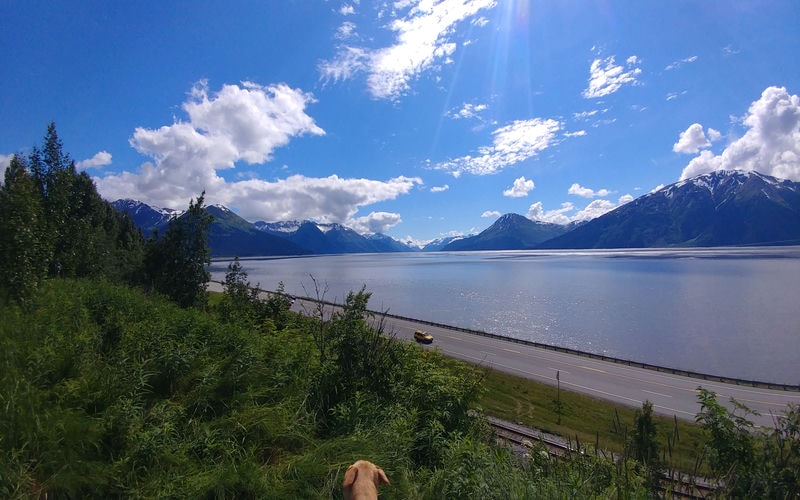 No car, but wanna go and explore far? Then a fresh walk in Anchorage downtown is the right solution for you since the downtown is walkable! 
Anchorage is known for its vibrant flowers and city lights since it facilitates heavenly views of parterres, plantations, and garden beds. The walkable downtown has got breathtaking views of the streets! 
Walking through the streets, you'll see mini-parks and many sophisticated multi-purpose shops designed along the roads with artistic crafts and fine street art.
You can also enjoy the aesthetic statuette of Balto, the sled dog, and get a picture-perfect Instagram post in the Anchorage Mushing District on 4th avenue.
2. Pay a visit to the nearby Anchorage Museum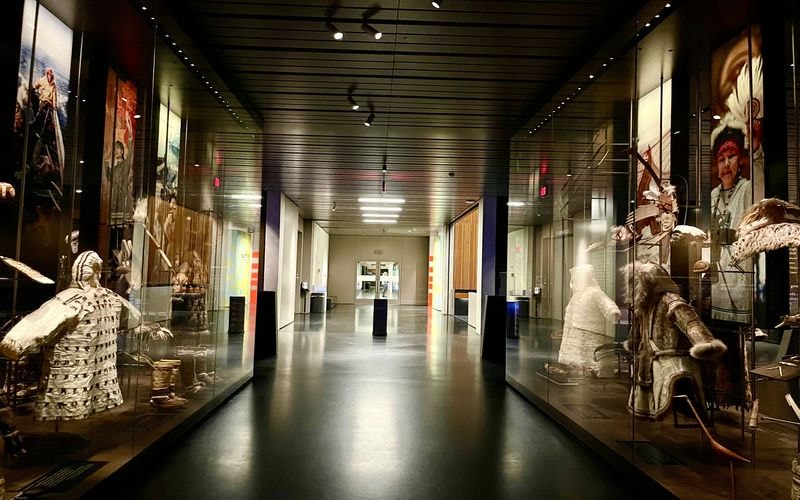 If you want to tick Anchorage's historical fantasy off your bucket list, you can opt for Anchorage Museum. Don't worry; the museum is just within walking distance from downtown. The same museum is one of the finest and most extensive in the city. 
The beauty of the museum enhances more with an enriched history zone portrayed through science, arts, and crafts. The overwhelming and neat museum also has a cafe to entice you to the fullest, along with great views of Alaska's heritage. So you can enjoy beverages, coffee, and light meal or tidbits with your homies. 
The museum is just the right choice for people of all ages; even the kids will find it interesting as there are outdoor arts and sculptures with a fascinating park.
But wait, are you still stuck in the Anchorage airport and giving up on day trips from Anchorage? In that case, we'll recommend you go for tour agencies, whether it is picking you up from the airport or helping you with necessary instant groceries; the agencies might be a real-time savior for you! 
Our picks would be Escaping Anchorage, which facilitates four-person space, and AK Tripping agency, which allows ten-person transport space. And this very tip was our most incredible hack on the things to do in Anchorage without a car, so remember to count on this tip!
3. Relish your meal at Simon & Seaforts Seafood Restaurant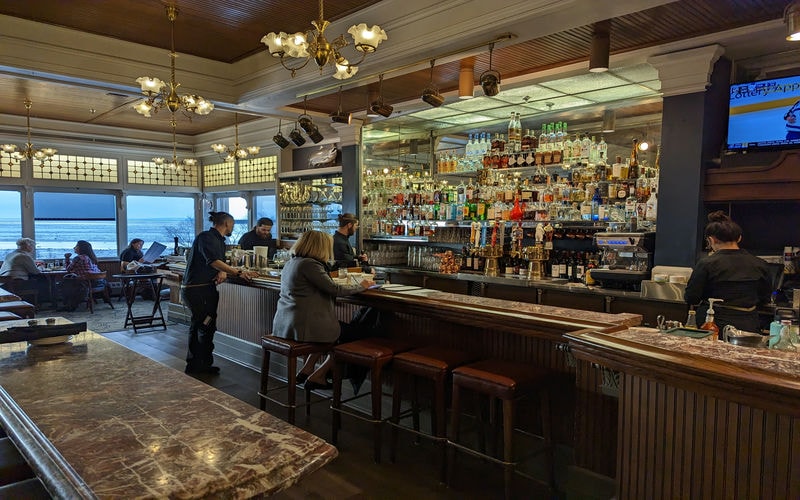 Oh! How can you miss the fresh aroma of grilled salmon with fennel? Care for a bite? If so, you can enjoy this at Anchorage even if you don't have a car since the restaurant is nearby downtown.
But ensure to get a reservation beforehand and witness the most scintillating view; consider going in the evenings and a seat near the window, and you'll surely be in awe when you see the unprecedented sunset view. 
4. Don't miss out on Tony Knowles Coastal Trail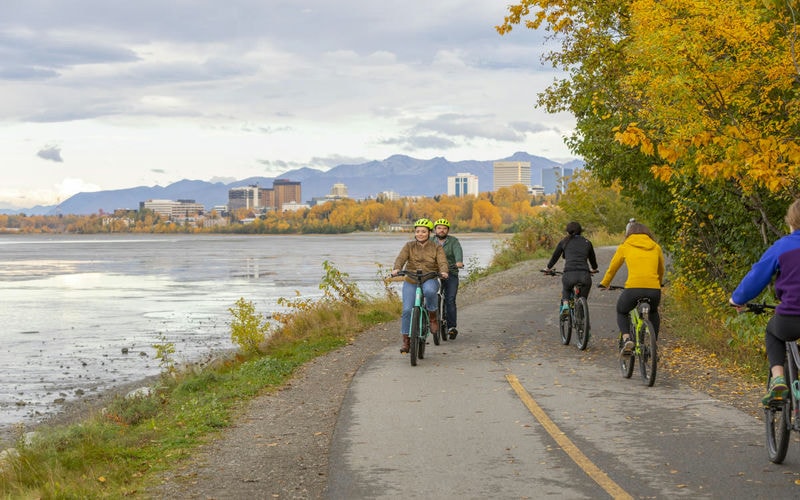 Are you looking for a place to enjoy skating, strolling, running, walking, and even biking all in one place? Then you would surely don't wanna miss this 11 miles of trail; its views are undoubtedly a treat for your eyes!
The trail moves from the Alaska Aviation Heritage Museum route to Kincaid Park.  
Well, you can visit the trail easily as its location is approachable from any point in the city. 
As you pave the route in and out, you'll see the picture-perfect "Sleeping Lady Mountain," interactive playgrounds, lakes, parks, exciting aircraft runways, and unreal sceneries of the Pacific Ocean, and you could even see moose if you're visiting it in the summer! What more to ask for, right? 
For a better experience, you can take up a bike on rent; our pick on it would be Pablo's Bicycle.
5. Opt for the Alaska Railroad
Care for a historic ride of Anchorage, but worried as you have no car with you? Rails are then your ultimate best friend! 
As per our travel experts, you can see the most beautiful tourist attractions and historical places of Anchorage if you hit the trains of the Alaska rails! They can take you to popular spots like Kenai Fjords National Park, Spencer Glacier, and many more picturesque places to enjoy the natural scenes with a subtle touch of historical essence. 
But to make the most out of your parky things to do in Anchorage without a car, remember to check out the train schedule, as there's often a rush during May and September, to ensure that you don't encounter problems in booking the train seats.
6. Catch the free shuttles
While cab fares from Anchorage Airport would cost you about $20 to $30, some hotels still offer you shuttle services free of cost from the airport to downtown. So before you make it to Anchorage, check out the hotel websites which promote the free service. 
And if you're downtown, you'll readily reach shuttle zones within walking distance and, yes, definitely without a car! Some tour companies may also provide shuttle services, but remember to discuss the prices before you get in. 
These shuttles are good at making Anchorage worth visiting and will surely help you explore the place exquisitely!
7. Give the Alaska Wildlife Conservation Center A Go
If you're a pet lover, this is just the place you want! The noble franchise accepts the lost animals or those that can't return to their habitat or are orphaned or injured throughout the year, facilitating and preserving the wildlife sceneries of Anchorage elegantly. 
The pleasant combination of the valleys, surreal mountains, and wildlife makes this place a must-visit for you! The huge special animal cages and the highly sophisticated animal treatments are so eye-catching that they are enough to soothe your soul too! 
And yes, to pay a visit to the same park, you'll have options for walking and driving, so yeah no need to freak out even if you show up in Anchorage without a car!
8. Visit the happening Anchorage Market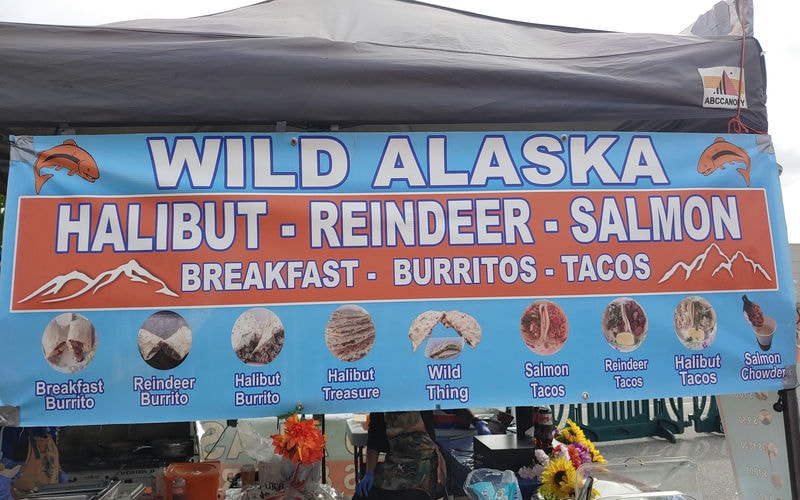 It is where you can shop without any headache about whether the products will be authentic, as the market solely promotes authentic Alaska souvenirs! 
Located in the Dimond Center, South Anchorage, the market has rows of stores, including mouthwatering food stalls, some notable and unique cuisines you would find there are Russian Pelmeni dumplings and fireweed honey ice cream. 
You'll get everything from artistic t-shirts to home decorating wooden sculptures, gifts, and even live entertainment in the market. There's a separate kids' market where you'll get goods prepared by young kiddies. 
If you are without a car, you might need to take up public transport or bus systems to visit the hyped market. The famous public bus system in Anchorage is the People Mover, but remember that the service is provided once per hour. 
The market premises get open from mid of May to September. But it's worth mentioning that the market's location has become a bit unsuitable after it changed from downtown Anchorage.
9. Visit Chugach State Park for the Win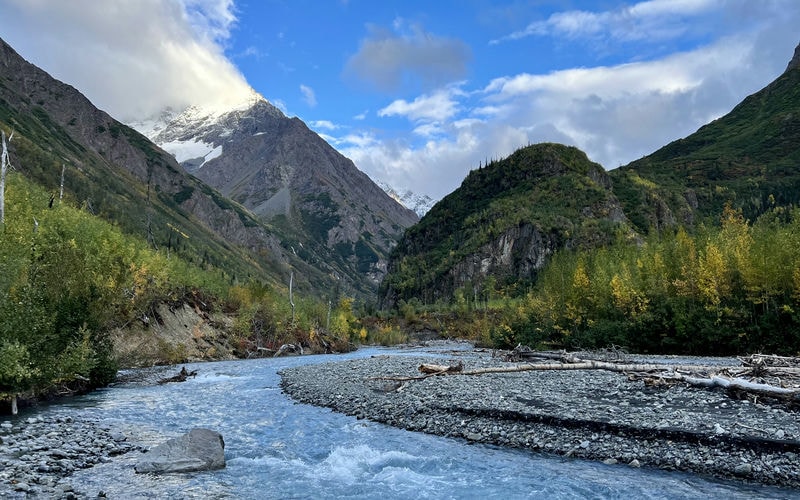 Your Anchorage trip would be incomplete if you didn't go hiking! If you visit the place on a clear day, you'll see the fascinating view from the entire Anchorage to Denali, as the Chugach State Park covers a lot of trails with a massive area suitable for hiking. 
The 3.3-mile-out-and-back is a must-visit as the view of Anchorage, Alaska, from here is unmatched; it also gives you options for loop; however, you should go for the loop only if you're a hardcore hiker! 
We recommend you take up a bus ride or the readily available Uber for the sightseeing of the very place.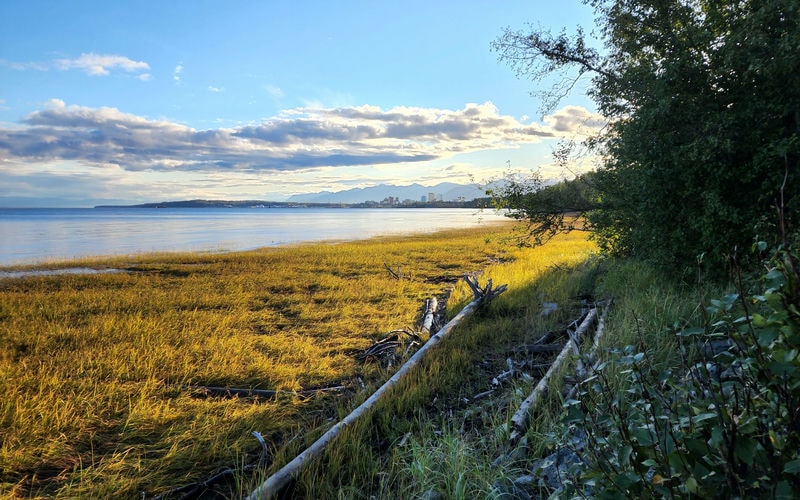 Did you ever wonder how a place could look beautiful even after it passed through a massive earthquake? The site has a history of a 9.2 Richter scale earthquake in 1964; it holds the demolitions of the natural disaster so gracefully that you can't get your eyes off its beauty. 
With the balmy views of the mountains and the dominating sunset view, you'll feel fortunate after visiting it. It is not only a historic Instagram-worthy place but a place where you'll get a quirky kick as you move along the pathways since there's a strange decrease in height as you go near the lake. 
Also, specific manifestations around the park will give you an in-depth vibe of the desolation that happened.
11. Ride on a Bike & get the ultimate hype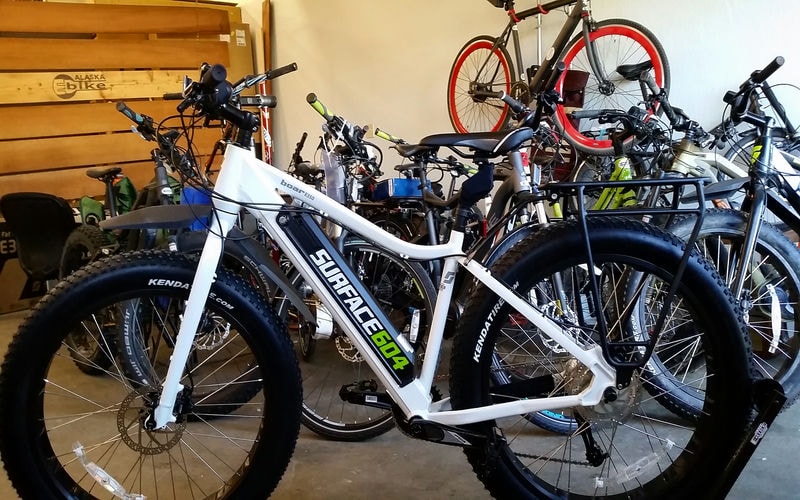 Riding on a bike has its perks on its own, right? It all hits differently, from the breezes swaying away to the striking and uber-cool bike speeds! 
Bike rides have got it all to help you explore Anchorage, that too at an affordable cost! As per the city locals, it's even more accessible to explore the city via bike since downtown offers many bike routes! 
And as we want you to avoid hassle with your ultimate things to do in Anchorage without a car, it's better to know about the downtown bike rentals! The rental charges typically start from $30 per day visit.
12. Seward Highway: The Healer of Your Soul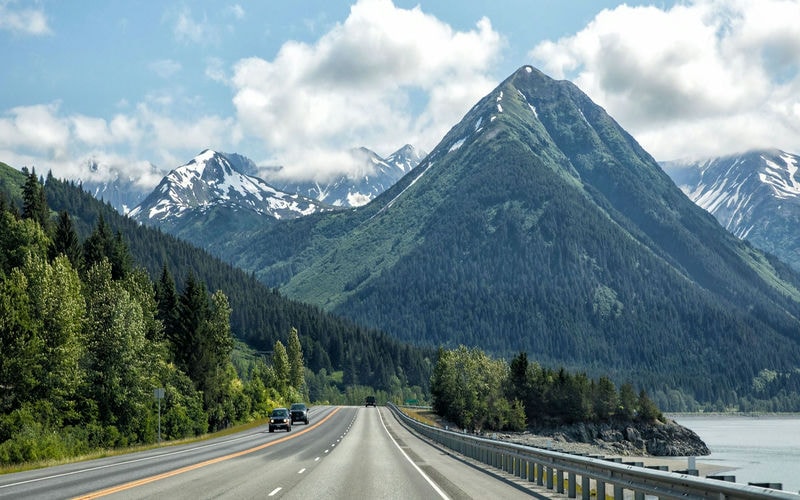 Did you ever imagine how pacifying blue water would look if they were left to sparkle? Well, in that case, you should pay a visit to Seward Highway, and the exciting thing is you are not even required to take any bus or bike ride to enjoy its beauty! 
Walking through Anchorage for 10 minutes, you'll see the appealing blue shimmering water, glaciers, mountains, nearby domestic animals, and many more that will change your concept about typical traffic-filled highways. 
So if you're into exploring nature at its peak, Seward Highway is the place to be!
Final Words
Well, from the get-going, we hope all your fears regarding the- things to do in Anchorage without a car have ended after reaching out to our savvy tips and solutions. 
Yes, you got it right; visiting Anchorage without a car is possible, but it'll only be an easy venture if you stay downtown. If you are willing to wander beyond Anchorage downtown, we recommend you go for rental cars. 
Undoubtedly, Anchorage has many tourist attractions to offer you. All you need is to be aware of the loopholes regarding the transport rental charges to ensure that you don't face any unwanted situations during your favorite trip! 
We hope our content will be a savior for your next Anchorage trip, so let us know how you liked our today's pick! Adios!
Can I get around Anchorage without a car?
Yes, Anchorage has public transportation, bike rentals, walking trails, and taxi/ridesharing services available for getting around the city without a car.
Is Anchorage a walkable city?
Anchorage is moderately walkable in some areas, but not entirely. Some neighborhoods have sidewalks and walking trails, but others lack pedestrian infrastructure. Additionally, the city's size and climate may impact walkability.