Isn't it a herculean task to find random rental cars while traveling for a trip to a new country or city? And if you're planning a trip to the luxurious prominent Austin, we are sure you wouldn't want to waste your time finding the uncertain and pricy car services!
Worry not, as you are no longer required to have a car certification to explore the beauty of Austin, the heart of Texas; since you've just come up to the right article, that you're looking for the ultimate things to do in Austin Texas without a car. 
Also Read: 

12 Things To Do In Anchorage Without A Car

16 Things To Do In Nantucket Without A Car

Best Things to Do in Virginia Creeper Trail

Things To Do In Austin Texas Without A Car
So grab your coffee, and let's settle in for the 5-minute read hacks about Austin without a car.
1. Catch the local Austin transportation for your gateways.
If you've just landed in Austin, Texas, and thinking about what to do next for your trip right from the Austin Bergstrom International airport, then you should consider staying in downtown Austin, or anywhere that's centrally located downtown near the Convention Center or the University of Texas routes, as they have highly walkable and pedestrian-friendly streets.
You'll need to count on a distance of mere 16 miles from the airport to Austin downtown. If you're in a budget-saving mode, go for the CapMetro bus ride from the airport to reach your hotel, within a fairly minimal cost; single-ride fare starts from $1.25. 
But remember, these generic bus services might take much longer than the pricy taxi or Uber ride.
You can take a look at the below ways to get more ideas on how to wander in Austin without a car:
1. Call upon a taxi
2. Rideshare with Uber and Lyft
3. Pedicabs
4. MetroBike rentals
5. Scooter Rides from Lime app
6. Bicycle and Bike rides from the Austin B-cycle app
Apart from the above, you can use the BCycle app to help you find the nearest transport services, including enthusiastic electric bike rides. But remember, taxis might cost more than the rest of the options.
There are even cheaper options, such as the Austin MetroRail, kiddos under 18 are eligible for free rail rides, and you'll also get free Wi-fi services. We've added the rail timings to the data table below for your convenience.
| | | |
| --- | --- | --- |
| Days | Start time of Service | End time of Service |
| Sunday to Thursday | 6: 55 a.m | 8:23 p.m |
| Friday  | 6:55 a.m | 1:32 a.m |
| Saturday | 6:55 a.m | 1:37am  |
What more can one ask for, right? Isn't it enough for you to forget that you're on a trip without a car? It is indeed!
As for your accommodation needs, our picks would be Radisson Austin and Hotel Zaza. 
Even Hotel Zaza will also help you with free transport services if you're within 3 miles of the hotel premises; the service runs on the first in, first out idea. 
And of course, you always have the option of walking if you're someone who would like to explore the beauty of Austin solely by walking, but remember to take up water bottles and an umbrella along with you since the Austin heat is deep during summer; consider this as our sincere tip on the things to do in Austin Texas without a car.
2. The Food Trucks: Your wallet savior.
Are you drooling for some Austin cuisines but worried they might be too costly? If so, the famous Austin food trucks are all you need; You'll get a variety of mouthwatering cuisine at an affordable range. 
You'll even find international delicacies at lower prices, so we're sure it wouldn't be a headache for your wallet. You can relish the Austin food truck cuisines by sitting in nearby parks; Arbor Food Park would be our pick on it. 
As you walk downtown, you'll see food trucks around the street corners, so you are less likely to have trouble finding them.
We recommend Detroit-style pizza from Via 313 at the Food Truck Lot of Rainey Street.
Our pro tip on the things to do in Austin Texas without a car would be installing the InstantLocal app; it will also help you effectively find restaurants near you. You should be okay with the local rideshares or simple walks when visiting the restaurants.
3. Museum of Ice Cream: The Must-Have.
Austin is known for its oh-so-scorching heat in summer! And what else could be a better option than ice cream to beat the Austin heat? The place is perfect for your trip, and the ticket prices will cost $ 38.39 per head. 
It has 12 multi-sensory installations to help you provide the finest ice cream treats, with sprinkle pools, galleries, and rainbow tunnels. You can take up bike rentals or bus rides to visit the museum.
4. The Chilling Supremacy: Barton Springs Pool.
You can make your Austin trip more happening even if you show up without a car; wanna know how? Consider paying a visit to the uber-cool Barton Springs Pool. The pool water holds a temperature of 70 F, perfect for diving in the oh-so-hot Austin springs.
5. Pay a visit to SoCo District.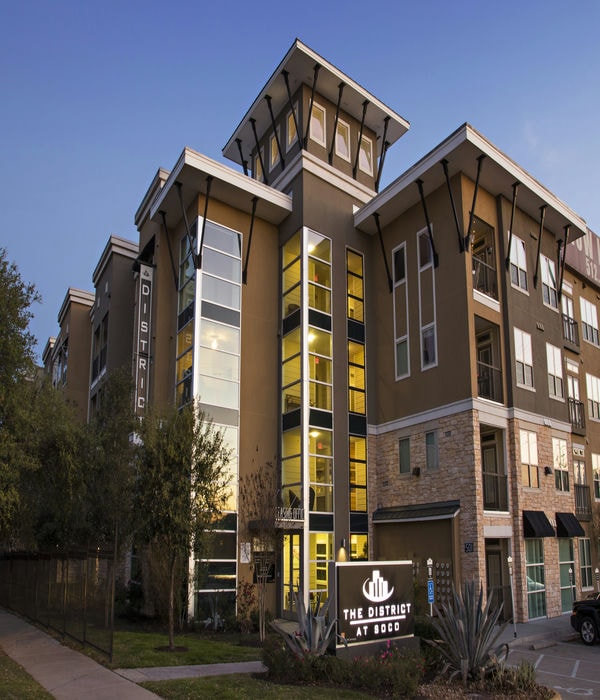 Whether you're a travel freak or an introvert, the SoCo district of Austin has just got all the perfect ingredients to help you make your without-car trip even more ecstatic. 
With each step you take in the streets of Soco, you'll get a picturesque social-media-Worthy vibe. You'll find freshly handmade goodies, vintage collection stores, and endless street art in this place. 
It is located in the South Austin neighborhood, so consider taking public transport if you're heading from downtown to SoCo.
6. Def slay all the way: With Austin Kayaking. 
Nothing beats the iconic boat rides, and when you're paddling it alone, it'll make your experience even better. 
We recommend you take a kayaking boat ride and paddle it amidst Lady Bird Lake; the subtle soul-soothing feeling of paddling the kayaking with the unimaginably large skyline will surely let you forget that you have come on the trip without a car!
7. Remember to check out the Before I Die Wall.
Were you looking for a place that has a different kick? If so, consider visiting this unique art project, Before I Die Wall. 
It allows visitors to share their thoughts about their wishes before dying!! Since it is near downtown, you can take bus, bike, or scooter rides to visit the place.
8. Enjoy the fine arts of the Cathedral of Junk. 
Have you ever imagined that ruins can even look so artistically beautiful? The Cathedral of Junk has made this idea possible with its creative fine arts.. 
The place takes a donation-based charge as an entry fee and is a spectacular art gallery where the arts are made up of junk and trash for real. But remember to contact the gallery before you show up for a visit.
9. Shop to the fullest on South Congress Avenue.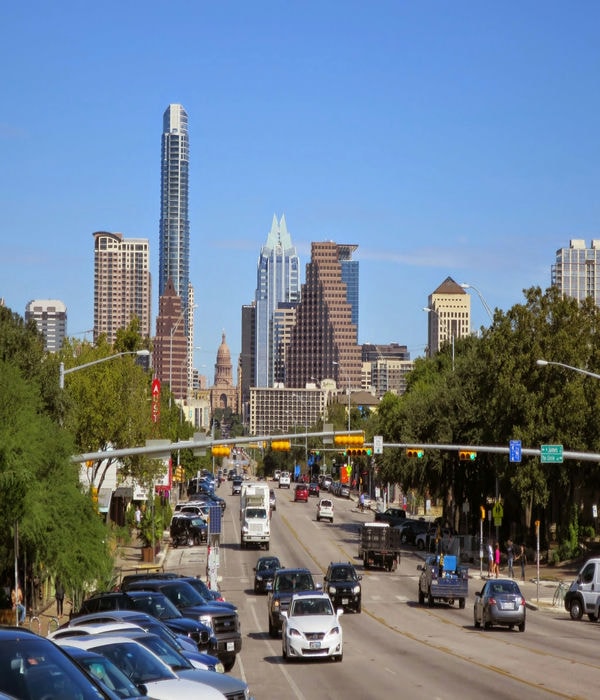 Can you even imagine leaving your Austin trip without any shopping? Well, surely not! You can find authentic products, including vibrant boutiques, candy, toy shops, jewelry and clothing stores, and many more! Bus rides would be our pick for the venture!
10. The breathtaking neon art of Roadhouse Relics. 
Want an Instagram-Worthy place for your social handles and posts? This studio is then the place you're looking for! 
The handmade antique neon art will give your trip an edgy vibe, and the whole environment of the studio is so catchy that it might even work as a backdrop for your photoshoots.
11. Groove with the Live music at Hole in the Wall.
Austin is unapologetically popular with its unofficial tag, the City of Live music. And we know you can't miss out on music when you're in Austin! 
The venue is a bar that offers live music and karaoke, along with super options of food and drink. 
12. Don't miss out the Rainey Street.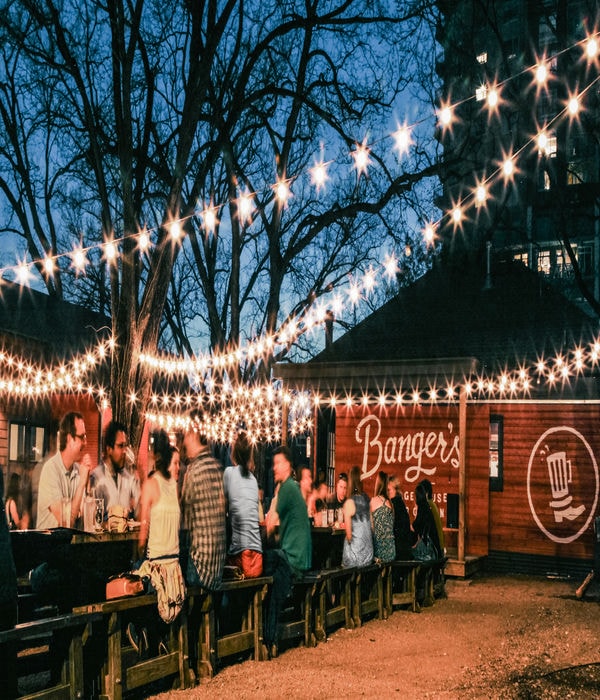 It is a place where you surely would not miss the absence of a car because as you walk through Rainey Street, you'll feel blessed beyond measure! 
You'll find exhilarating rows of food stores, bars, eye-soothing old bungalows, and some unique cocktail collections over here by just taking a scooter or cycle ride from downtown. Oh! Remember to visit Banger's Sausage House & Beer Garden, a few steps from Rainey Street to relish some unique cuisines.
13. Haunted Austin Walking History Tour.
Are you looking for exciting yet unique things to do in Austin Texas without a car? It is just the perfect place then! The place features spooky attractions of Austin, where you'll get ghost story-tellers giving you company as you take the walking tour. 
The admission fee is $ 27.5 per adult; it also provides free cancellations. We recommend taking a bike ride to reach the location just in time, as the place offers specific entry times only, so make sure you arrive on time!
14. Level up your trip with East Cesar Chavez.
No matter what it is, you can't imagine the lively city of Austin without its bubbly neighborhood! 
With beautifully crafted residences, designed lanes, plentiful dining options, and local shops, East Cesar Chavez has everything! 
The roads are walkable and bike-friendly, so you'll get that sophisticated Austin vibe even if you wander in this street at night. And it is surely one of the best free things to do in Austin at night.
15. University of Texas at Austin: The one-stop amusement.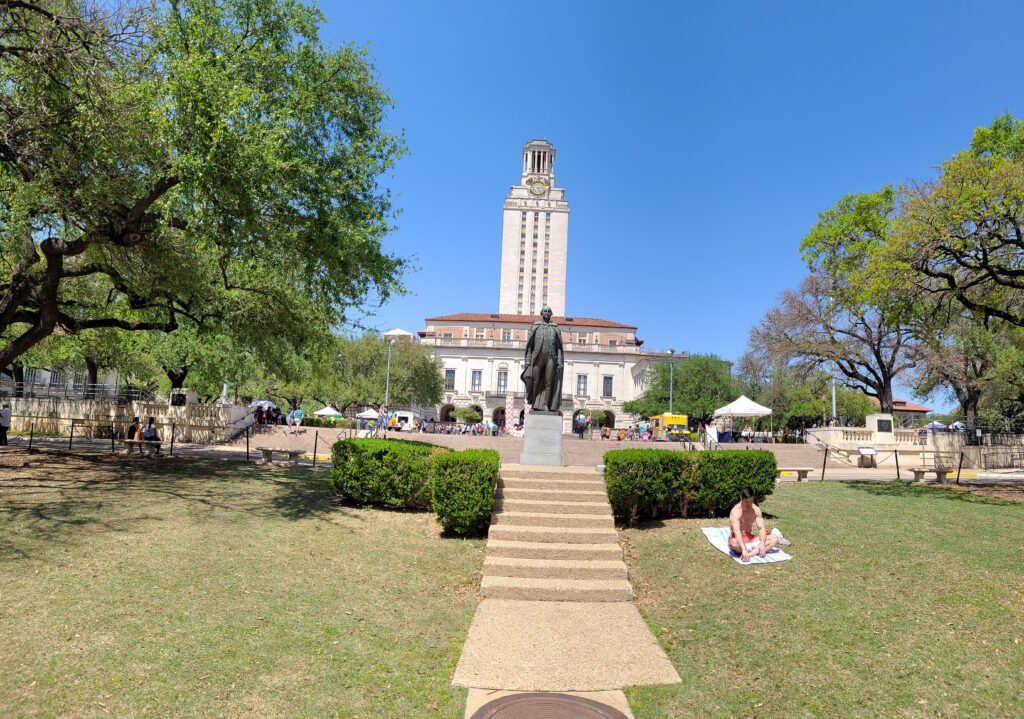 Well, if you're willing to immerse yourself in the subtle beauty of Austin within the limit of your wallet, then there can't be any better place other than the University of Texas. 
This place is super walkable, along with serene street views. This neighborhood also offers multiple stores, live entertainment, fine dining, museums, and shopping options. The nightlife of it has also got some spectacular views to provide you with. 
16. Zilker Park: Add a fun jiggle to your trip.
This place is a 360-acre oasis and is a whole package of entertainment on its own! 
It has sculpture museums, botanical gardens, pools, and hillside theatres, and the best part is it is located at the core of downtown, so you can easily make your way to it by walking!
17. Make your trip slaying with a visit to the Texas Capitol.
If you're looking for an area to enjoy extensive greeneries, it is the place to be, located at the end of Congress Avenue. The picture-perfect spot is also an ideal choice if you're planning for picnics! 
It holds the beauty of artifacts, and along with it, you can also find a Mexican art museum, which is at 10 minutes walking distance from the Capitol building. To know more, take a look at the below information.
| | | | |
| --- | --- | --- | --- |
| Days | Service time  | End time  | Charge |
| Monday to Friday | 7 a.m | 8 p.m | Free |
| Saturday to Sunday  | 9 a.m | 8 p.m | Free |
18. Don't you dare to miss the Weird museum.
The museum is prominently known for its odd and unique creations. 
From scary deformed skulls and real-like animal displays to weird vintage art and lighting, the whole ambiance of the place makes it one of the eccentric things to do in Austin Texas without a car!
19. Visit the Ann & Roy Butler Hike-and-Bike Trail.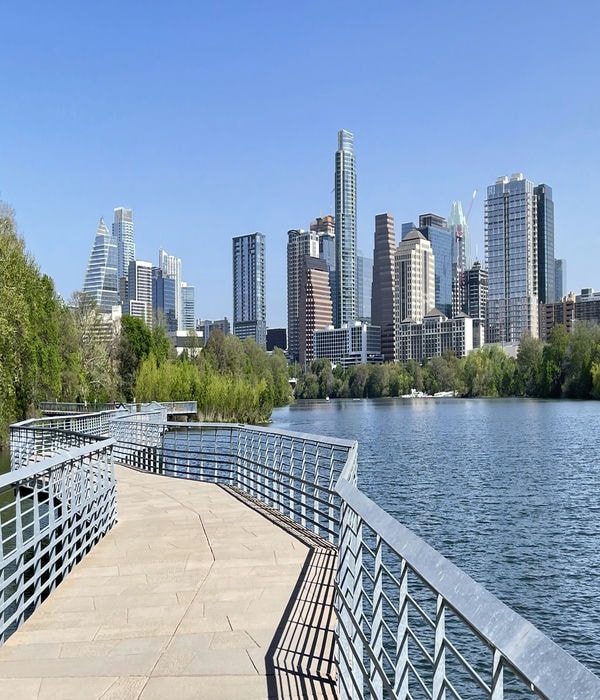 Are you delving into some energetic Austin jogging? The greenery 10-mile trail is then the perfect choice for you! 
With the heavenly Austin sky scenes and sparkling water from the surrounding lake, this place is enough to get your soul soaked in mesmerizing natural views.
20. Add a hint of elegance to your trip with Lady bird lake.
This divine place is your stop if you are looking for a route for aesthetically exploring Austin. 
The chirping of birds, the Colorado river around, the heavenly blueish Texan sky, the Mexican bats, and the lake water, the whole combination, make Austin's beauty even more dominant. You can visit the place via boat rides.
Final Thoughts
Woho! There you go with all the nooks and crannies on the – things to do in Austin Texas without a car! Did you see how easily you can enjoy your Austin trip without a Bugatti or BMW? 
Even there are many free things to do in Austin with family without paying much attention to the costly rental car services. If you're on a short and sweet trip to Austin, the public transportations and walks are enough for you to explore the city!
But remember, nothing in this world comes without disadvantages! As we know, summers in Austin are so scorching that sometimes walking down the beautiful lanes or journey via public transport might be difficult. 
So remember to take necessary precautions before you go out on sunny days! Winters in Austin are no less in glamour, so you can plan your trip during winter as well, but if you're willing to go during the Christmas season, then you should check the hotel reservations beforehand. 
Also, if you're on a long-term trip and ready to move somewhere other than downtown, you might need to go for rental cars because, in this case, cars can make your expedition easier! 
We hope our article will be helpful for your explorations; we'll appreciate it if you've any suggestions regarding the content, so do let us know!