Want to discover the best outdoor activities to do in Val Cenis? Here are the friendliest ones selected for you by Travelvibe.
Val Cenis is a winter sports resort consisting of three different ski areas. This jewel of the Haute-Maurienne valley in Savoy extends around the Mont-Cenis pass, close to the Italian border.
Famous for its ski area attracting countless snow sports fans yearly, Val Cenis offers a colossal fun offer in winter and summer. The mountain is honored by some of the fastest ski lifts in the country.
There is no shortage of leisure in the Alps, which attracts a wide audience who come to participate in the best activities. Given its privileged geographical location and excellent road network, tourists flock to this beautiful corner of France from all over Europe.
More: 

Best Outdoor Activities in Les Saisies

Best Ourdoor Activities to do in Meribel

Best Outdoor Activities to do in Saint Francois Longchamp

Best Outdoor Activities to do in Chatel

Aevergne Rhone Alpes Toursit Attractions

Once there, you wonder what the best outdoor activities to do in Val Cenis are? Follow the guide; we will tell you everything!
Best things to do in Val Cenis in Summer and Winter
Best things to do in Val Cenis in Summer
Mountaineering
No doubt, as far as we are concerned, this outdoor activity in Val-Cenis is one of the most interesting in the place. Besides, we are not the only ones to think so!
The val cenis guides' office has a lot to do, and it must be said, given the topographical specificities of the place. Savoy is France's second most mountainous department, and many mythical mountains are near the resort.
The Albaron (3,637 m), the Dôme de Chasseforêt (3,586 m), and the famous Grande Casse (3,852 m) are popular tourist attractions among mountain people. Ready to measure yourself against them?
Count around 100€ for this activity.
Via Ferrata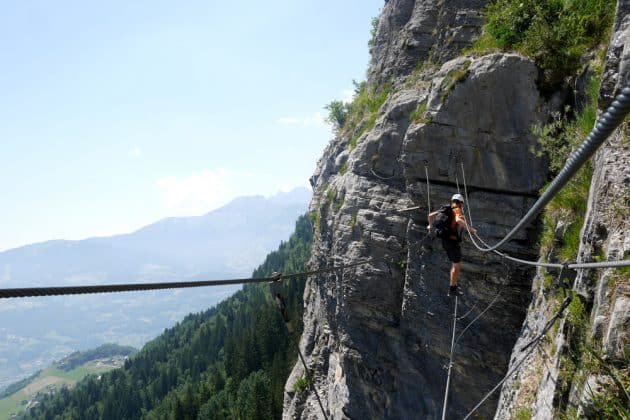 Well, she is not the only one on the market in this tourist resort. But if the via Ferrata is one of the best outdoor activities to do in Val Cenis, it is not for nothing!
The Devil's via Ferrata combines seven sections of different difficulties, from easy to very difficult. Supervised by a qualified instructor, an afternoon will not be too much to complete the 3,760 m of the route.
Of course, loopholes are provided to dodge the most difficult passages. Top start to your carabiners!
Count between 30 € and 40 € for this activity.
Paraglider
If you're looking for thrills, we've got you covered. The Holy Grail is among the best outdoor activities to do in Val Cenis: paragliding! Those who wish to cherish the dream of Icarus are here in the right place.
Two-seater flights are organized on the heights of the resort to contemplate Val Cenis while gaining height. Comfortably seated in the hot seat, the protagonists of this aerial adventure will only have to enjoy their tandem flight fully.
Special mention: flights are also offered to people with reduced mobility. The whole Vanoise extends before you: a unique experience to live without moderation!
Canyoning
Perfect for a stay with friends, we present you with one of the best outdoor activities to do in Val Cenis of this selection.
Canyoning consists of descending the river's bed by chaining rappels, jumps, and slides on natural slides.
In this case, the Écot canyon, dug by meltwater from glaciers, will serve as a natural playground. Many consider it the most beautiful canyon in the Alps, offering several routes to choose from depending on their difficulty.
Whether you come with family, friends, or a couple, fun is guaranteed! Plan about 20€ for this activity.
Escalation
Whether or not you decide to discover all that the area has to offer, there is no doubt that this outdoor activity to do in Val Cenis will seduce you as much as we do.
Climbing in Val Cenis is not done on a natural wall but an artificial outdoor climbing structure. It is located at the Glières leisure park.
You will have the opportunity to learn all about vertical evolution. The instructors will be happy to distill tips and tricks to make a sunny morning a unique experience: come and test!
Plan a budget between 40 € and 230 € for a climbing outing. It is one of the best things to do in Val Cenis in summer.
MOUNTAIN BIKE
Located in a splendid environment, it is undoubtedly one of the best outdoor activities to do in Val Cenis. Moreover, as soon as you arrive, you will quickly understand why: the marked trailheads are everywhere in the resort!
Cross-country, enduro, downhill, or hiking… It doesn't matter as long as you have a bike. And if you don't have one, the heart of the resort is home to several rental agencies.
Our advice? We were in 2020, do not take the lead and opt for the electric! Electric bikes are the assurance of taking maximum sensations without getting tired.
Rafting
Laughter, splashes, and a lovely group trip: what could be better than rafting to have fun with friends or family?
This activity consists of going down a river on a rubber dinghy in the company of a dozen people and an experienced guide.
The descent of the Arc, from Termignon to Bramans, is a beautiful six-kilometer course in the middle of the rapids! As long as you know how to swim, rafting allows you to spend an excellent refreshing afternoon in the heart of a splendid natural environment. Don't hesitate!
Paddle
Are you looking for a quiet sports practice, a thousand places from the extreme sports symbolic of the high mountains?
This Savoyard locality is remarkable in many ways; this outdoor activity in Val Cenis is certainly a must for any visitor who respects himself.
Lake Bessans, in the heart of the Vanoise, lends itself gladly to stand-up paddleboarding! The equipment is available for rent if you do not own it.
We recommend that you go to Lake Bessans between 3 pm and 7 pm: the temperature is optimal and the brightness at the end of the day magical…
Best things to do in Val Cenis in Winter
Sliding sports
Here are some statistics for this most remarkable outdoor activity in Val Cenis: 125 km of marked trails and 62 slopes, including 16 green, 19 blue, 22 red, and 5 black. And 28 ultra-fast ski lifts: so, isn't life beautiful in Val Cenis?
In winter, the ski area attracts many novice or experienced skiers. Snowboarders and freestyle enthusiasts are not to be outdone with an exceptional snowpark.
Quality snow promises beautiful sessions all year round: so does it tempt you?
Expect between 20 € and 70 € for this service.
Snakegliss
That's for sure: this is one of the best outdoor activities to do in Val Cenis, and you will quickly understand why. The snakegliss consists of hurtling down the slopes on a toboggan track: you will descend the blue track of Chamois at full speed.
Fun and sensations are guaranteed! Organized every evening at the closing of the slopes, this activity takes place under the direction of an instructor who will take care of not sending all this little world into the scenery …
The appointment took at the foot of the gondola of the Old Mill; the last cabin will be reserved for you. Equipped with a helmet and a sled, participants will enjoy a guaranteed 45 minutes of thrills and laughter!
Airboard
We could have been content to present you with classic getaways, but we chose to share with you our favorite. This is one of the best outdoor activities to do in Val Cenis, without a doubt.
The airboard is an inflatable toboggan used to hurtle down the snowy slopes on the stomach and head first! Adrenaline is assured on the green and blue slopes for a difference in altitude of 650m. Air boarding is one of the best things to do in Val Cenis in winter.
Do you dare to try the experience? Count about 25 € for an airboard descent.
Ice diving
Travelvibe was won over by this unique adventure that stands out among others. That's why we've included it in our list of the best outdoor activities to do in Val Cenis.
This is to perform a baptism of ice diving in the heart of the Vanoise National Park. It is for you if you are over twelve years old and enjoys extreme sensations!
Accessible from the age of twelve, you will admire magical lights a few meters from the lake's frozen surface. Pure beauty, we tell you!
Plan a budget of around 100 € for an afternoon of ice diving.
Nordic skiing
The Nordic ski area of Val d'Ambin in Val Cenis offers 29 km of marked slopes dedicated entirely to this sport. With free access, you will have the opportunity to practice cross-country skiing in the middle of the wild valley of Planay.
Dotted with larch and fir trees, the latter has beautiful natural viewpoints offering a splendid view of the Vanoise National Park, glaciers, and snow-capped mountains.
Nordic skiing is an excellent opportunity to discover nature's surroundings differently: enjoy it during your stay!
Snowshoes
Do you really want to visit the place without enjoying one of the best outdoor activities to do in Val Cenis? That would be a shame, wouldn't it? Snowshoeing is, like cross-country skiing, an opportunity to take your time by dedicating it to contemplation.
If you wish, a unique route is offered: after enjoying an authentic meal in an altitude chalet in the company of high mountain guides, you will descend, in the moonlight, to the village.
In addition to the silence, you will be able to see the traces of local animals and learn about the nightlife of fascinating endemic species. A real experience!
Ice waterfall
Book your stay on-site quickly: one of the best outdoor activities to do in Val Cenis awaits you, and many people set their sights on it.
To climb a waterfall of ice is to progress on a beautiful sheaf of ice water by clinging to the latter with crampons, ice axes, and harness, all provided by pitons planted in the ice.
The interest? Share a unique experience with your loved ones and take you for a seasoned Himalayan… reassured, of course, by the presence of a state-certified instructor!
A mountaineering trip on the ice waterfalls varies between 170€ and 340€.
Sled dogs
Lapland is far away. And Alaska, even more: don't get caught up in your head; go to Val Cenis instead!
You will have the opportunity to live a unique moment comfortably installed on a sleigh led by a confirmed pilot (the famous musher).
Traction is provided by a pack of eight to ten Nordic dogs who will be happy to guide you through the snowy landscapes of the Vanoise. So, does that sound familiar?
So, which of the best outdoor activities to do in Val Cenis in your opinion?