Last Updated on 07/11/2021 by Alfred
When you visit Denarau Island in Fiji, you may wonder if the best beauty is natural. Reclaimed mangrove swamps have been turned into Fiji's ultimate luxury vacation destination. 
Everything on Denarau Island is polished to perfection, from the rolling lawns to the five-star resorts. Whether you're traveling as a young family or as newlyweds living their best lives together, Denarau Island caters to every type of traveler.
The 30 Best Things To Do In Denarau Island, Fiji
Some Facts About Denarau Island
Location: West coast of Viti Levu
Population: There is a tiny population in Denarau. Most locals live in Nadi.
Climate: The average temperature is 25.5 degrees Celsius (77.9 degrees Fahrenheit), and the average annual rainfall is 1,826 millimetres (71 inches).
Time Zone: FJT / GMT+12/+13
How to get to Denarau: There are direct international flights from the South Pacific islands, Australia, New Zealand, and Korea that land in Nadi International Airport. The flights are connected to many other flights. 
There are several ways to reach Denarau Island: Denarau Island is located 25 minutes south of the Nadi Airport. Guests can reach it by taxi, public bus service (Westbus), or a private transfer.
1.Take Her to Dinner
Some of the finest restaurants in Fiji are right here in Denarau, most of which are within the resorts. The Radisson Blu Resort alone has six pristine restaurants within its walls! 
Experience Thai cuisine at Chantara Thai Restaurant or Loma Ni Wai, meaning "in the water." 
The options are endless, from buffets to a la carte, from family-friendly restaurants to adult-only bars, ocean views, or a restaurant on the water! 
2.Spa Maya
Photo Credit – Tom Rodgers
This tranquil retreat is located above the Port Denarau terminal, where treatments are inspired by Vedic texts dating back over 5,000 years! Indulge in the herbal face, body, and hair treatments to re-balance and rejuvenate.
3.Make the most of your Resort Facilities
Photo Credit – Clara Tylor
Denarau Island is home to eight large resorts. Apart from getting out to explore the island, make sure to spend some time enjoying the resort itself with others. 
Whether you're splashing around in the pool, playing volleyball with the family, or watching a cultural show, your resort has lots of activities to keep you entertained! 
4.VOU Hub for Arts & Culture Activities
The Broadway-style show 'Fiji Legend Untold' is performed in a large tent outside Denarau, and it represents a Fijian legend through contemporary dance. 
"Fiji Untold" explores the origins of the Fijian stick dance through the encounters of a young noblewoman with giants, octopus gods, and shape-shifting iguanas. 
The evening shows run three times a week from 8 pm – 10 pm, so it's an excellent choice for an after-dinner break. Guests enjoy resort transfers as well as light snacks and soft drinks.  
During your reservation at the resort tour desk or the VOU Hub online, ask about the transfer time.
5.Do Some Kayaking
Where there's water, you'll find kayaks near the beach to hire. Explore the coast by hiring a kayak from a resort on the beach. 
In addition, if you prefer, you could choose a cruise day trip in which you can kayak and explore the Fijian volcanoes.
Read more: Incredible 26 Best Things To Do In Nadi, Fiji
6.Take a Sunbath in Natadola Beach
Natadola Beach is a magnificent reef-front beach on the Coral Coast of Viti Levu, a world-class beach in Fiji.
7.Spa Denarau
For Pure Fiji's luxurious massage therapies and skin products, a visit to Spa Denarau, located in Port Denarau, is a must. Made locally, Pure Fiji is a truly Fijian product. 
This product features an array of organic ingredients, such as raw sugarcane and antioxidant leaf hydrosols, all sourced from rural communities in Fiji.
8.Mini Golf & Bungee Tramps
Photo Credit – josua saunaqali
The whole family can enjoy Mini-golf. Located just across the road from the Sheraton Villas, this is a great place to bring kids of all ages. 
Besides the bungee trampoline, an outdoor bowling alley and tricycles can be rented.
9.Splash out at the Big Bula Waterpark
Photo Credit – Mike Gilbert
This brightly colored waterpark is located in the heart of Denarau, but if you do, you'll be able to find it thanks to the giant inflatable shark! 
There is no cooler way to beat the heat than with slides of all sizes and thrill levels. Race your friends on the obstacle courses, scale the gigantic water slides or conquer your fears on the giant water slides. 
Afterward, you can splash around again in a gated area just for tiny tots. Open daily.
10.Do a Skydive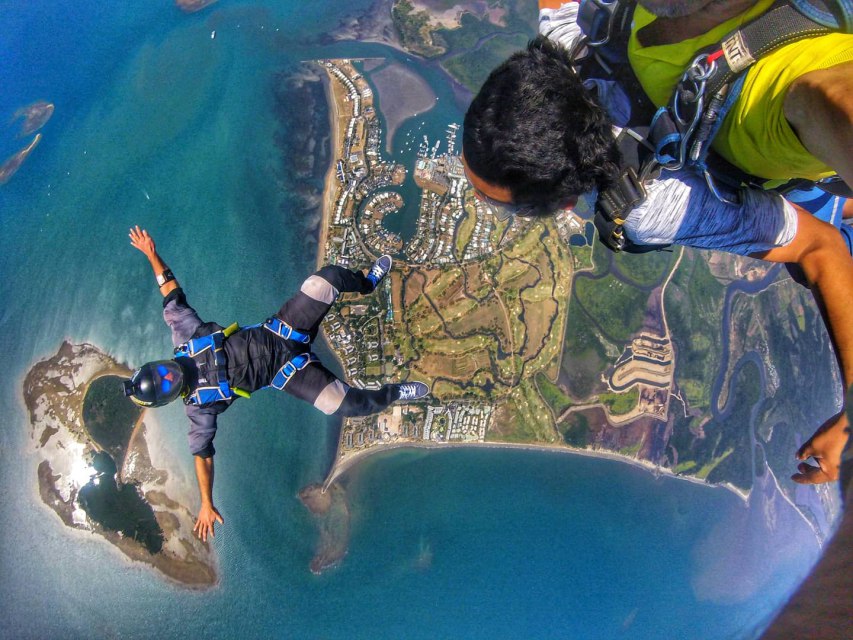 Photo Credit – Skydrive Fiji
Jump from 8,000 feet or 14,000 feet (2,550-4,300 m) on Denarau Island! You'll get to experience the whole skydiving experience with a hand-cam or a dedicated cameraman!
Experience the thrill of freefalling at 200km/h (125m/h) while admiring coral reefs, turquoise waters, and breathtaking islands. 
Book your jump with Skydive Fiji for a jump on an outer island. If your budget allows, you can even skydive to an island resort before staying there!
Read more: Awesome!! 7 Best Things To Do In Outer Islands, Fiji
11.Eat at the Beach Bar and Grill Restaurant
Photo Credit – Rose Bidney
Fiji's Beach Bar n Grill provides breathtaking views of the sunset and friendly Fijian service. You'll enjoy a variety of impressive choices and affordable prices at the bar.
12.See the Islands from the sky
Photo Credit – Cody Kirkhart
You can see the Fijian paradise islands from the sky with a seaplane trip from Denarau with Turtle Airways (visit Viator or Tripadvisor) or Pacific Island Air (Viator or Tripadvisor). 
For a day trip, you can land at one of the tranquil islands, such as Sawa-I-Lau, or even see the Blue Lagoon and enjoy the views on a 20-minute to 1h30 minute flight. 
The pilot will usually ask what you would like to see ahead of time, and the minimum number of passengers is two. Please note that flights will not go ahead without at least two passengers.
13.Hike at the Sigatoka Sand Dunes National Park
Photo Credit – Asia Pacifiq One – Jeff
Featuring a dense forest and beautiful dunes, this national park is one of the best things to do in Fiji. There is a visitor center where you can get all the info.
14.Get the Kids Involved in Kids' Club
Photo Credit – Sunny Goo
There are kids' clubs at most resorts on Denarau, and nanny services are available for babies and toddlers. Fijians are famous for their good nature with children, and you'll soon discover that they are having as much fun as you are. 
Parents can also take advantage of kids' clubs to reconnect, relax by the pool, or enjoy a massage. 
15.Catch a Cultural Show
If you visit Fiji, you have to explore some of the local cultures. Most resorts host Fijian cultural nights that include an earth oven (lovo) feast and dance.
Port Denarau also hosts an hour-long cultural dance fest along with Fijian, Polynesian, and fire dance performances during the night. The show takes place at 6.30 pm, except on Sundays.
Read more: Amazing 20 Best Things To Do In Suncoast, Fiji
16.Go fishing
Photo Credit – Hidden Gem Diving & Fishing – Fiji
When we tell you that there are tons of fishing trips departing Denarau, we're not kidding. Here, you will find everything from reef fishing for the family to catching the biggest fish in-game fishing! 
Everything you need for the day will be arranged for you, including lunch, gear, and an experienced guide. Adventure and an angler's arm are all you need (and maybe some sunscreen).
17.Visit Taveuni Hill Fort
Photo Credit – Tony Timer
The Singatoka Fort, built by Tongan Chief Maile Latumai in the 18th century in Taveuni, offers style amid so many forts scattered across Fiji.
18.Set off on an Island Adventure
It's easy to take a day trip to a beautiful island from Port Denarau, the gateway to the Mamanuca and Yasawa Islands.
Visit South Sea Island, where you can snorkel, dive, and relax on the beach, or take a cruise to Tivua Island with Captain Cook Cruises. If you're feeling adventurous, take the ferry to Barefoot Kuata Island to snorkel with reef sharks.
19.Explore Fijian Cuisine with Flavours of Fiji
Learn how to cook Fijian cuisine with the Flavours of Fiji cooking classes. The classes begin at the Nadi market, where students pick fresh ingredients to bring back to the school's commercial kitchen on Denarau. 
Here, home-style chefs share traditional cooking tips and techniques as they guide you through Fiji's seasonal menu. This class allows you to discover the rich culture of Fiji. 
After all, the best part of attending a cooking class is feasting on the delicious dishes you've created! Classes are held Monday through Saturday. Come hungry! 
20.Cruise to the Mamanuca Islands
Sail to one of the outer islands while visiting Denarau. Cruises, boat trips, jet boats, and sailing tours depart daily from the Denarau Marina, taking you to the nearby Mamanuca Islands. 
Usually, day tours consist of boarding a boat in the morning, stopping at an island resort for lunch, swimming and snorkeling, and being picked up again. 
Read more: Magnificent 19 Best Things To Do In Taveuni, Fiji
21.Cave tour of Cannibals Cave
It is an impressive cave with fascinating features and a history of cannibalism, pagan worship, and tribal warfare. It is easy to access, fresh air-filled, and free of creepy crawlies and bats.
22.Visit Denarau Golf and Racquet Club
Photo Credit – David Hammy
It was opened on 9 June 1993 with a golf course of 6538 meters. Pannya Planning's Mr. Eiichi Motohashi designed it.
23.Visit Momi Bay Battery Historic Park
Photo Credit – FULLthrottle"Tonz"
The Great Sea Reef is protected by naval guns, bunkers, and other structures, which have stood since World War II to protect the main passage through it.
24.Take a tour of Kula Eco Park wildlife sanctuary in Sigatoka
Photo Credit – Saahil Prasad
This park was created in the 1980s as a bird park. It is home to vibrant flora and fauna and amazing wildlife.
25.Visit Port Denarau
Located right on the ocean, Port Denarau is the bustling hub of this quaint island. A quick ride on the Bula bus gets you there fast, leaving you with plenty of time to shop for a unique kaftan or relax with a spa treatment.
In addition to restaurants serving tempting eats like sushi, burgers, spicy curries, and succulent seafood platters, there are several fast food options. 
During sunset, check out the nightly cultural performance, or end the evening with an evening meal under the stars and a live band.
Read more: Breathtaking!! 20 Best Things To Do In Yasawa Islands
26.Go Jet Skiing
Hire a jet ski or hop on a jet ski tour to get out on the water in a fun, fast-paced way! From half-day jet ski excursions to full-day jet ski excursions, there are a variety of options available. 
The best way to see the islands is to take a full-day trip from your resort to Bounty Island in the Mamanucas. Here, you can snorkel among tropical fish before stopping for a drink on Beachcomber Island.
27.Get Some Retail Therapy
Photo Credit – My Fiji Store
The largest resort town of the South Pacific, Port Denarau, is located near Denarau Marina, which means great shopping! Explore Fijian souvenirs, arts and crafts, clothing, wines, and culinary treats in many outlet and duty-free stores. 
Of course, there are plenty of restaurants too so that you can explore something outside of your resort. There are over ten restaurants, including the Hard Rock Cafe.
28.Shop, Dine and Drink at the Port Denarau Marina
Whether you're here on a day trip or staying on Denarau Island, you'll want to visit the Port Denarau Marina. Featuring souvenir shops, eateries, and all your essential services, it's the perfect place to spend an afternoon.
29.Unwind in One of the Resorts' Adult-Only Areas
Photo Credit – Jonathan Williamson
There's no question Denarau Island is family-friendly, but couples and adult groups will also have a good time! 
Radisson Blu Resort and Sheraton Fiji Resort have quiet adult-only areas, but the Sofitel Fiji Resort and Hilton Fiji Beach Resort have full-blown adult-only complexes where you will spend the day; in pure luxury!
30.Book a Daytrip to the Islands
Whether you're looking for white-sand beaches, clear water, or breathtaking snorkeling, Port Denarau offers a wealth of day trip options to the Mamanuca and Yasawa islands. 
At Cloud 9, you can soothe your senses while enjoying cocktails, find tranquility snorkeling off remote island beaches. 
What things to do in Denarau Island for Foodies?
Fiji and the South Pacific are islands that can be experienced through the flavors of its cuisine. If you're looking for an accessible Fiji destination with a wealth of foodie experience, then set your sights on Denarau Island. 
The luxury resort island is a foodie's paradise, packed with restaurants to try the local cuisine and hands-on food activities. We'll guide you through the eateries, accommodation, and activities that every foodie should try in this foodie guide to Denarau Island.
Visit Flavours of Fiji and learn to cook Fijian cuisine
Learn to cook Fijian dishes in a Fijian village
Enjoy a traditional Fijian "lovo" at the Fiji Culture Village.
Explore a restaurant that is submerged in the water at the Radisson Blu Resort.
Visit the Nadi produce markets
Enjoy a private waterfront dinner at the Sofitel Fiji Resort
Do an island excursion cruise complete with a barbecue lunch
Visit Ports O'Call or The Kitchen Grill for fine dining.
Embark on a sunset cruise with a barbecue or lobster dinner
Get your health fix at the Waitui Beach Club
What is the best Spa in Denarau Island, Fiji?
The islands that created "Fiji time" are perfect for rejuvenation and refreshing experiences so that you can enjoy a spa visit with a refreshing tropical breeze. 
You don't need to settle for a standard Swedish massage in Denarau; you can enjoy a Fijian-style massage, a tropical environment, and skilled therapists there. 
The beautiful spas in Denarau even offer a few "alternative" spas if you fancy something different. So treat yourself to luxury at these wonderful spas.
Senikai Spas Fiji
Denarau Beauty Spot & Spa
Oasis Spa
Island Surf Beauty & Spa
Hilton Spa & Poolside Spa Pavilion
Harmony Retreat Day Spa
Spa Maya
So Spa
Spa Denarau
Heavenly Spa by Westin
What is the best wedding Venus in Denarau Island, Fiji?
Luxury is what you have always wanted, and an island-style wedding, a touch of class, perfect weather, and first-class service are what you have been dreaming of. 
Those wedding venues will cater to all those needs. You need to select one from Denarau Island's wedding resorts. 
The resorts are flexible and will help you plan a unique wedding, whether you want a beach ceremony or a spectacular ballroom ceremony. 
If you like, you can even sail the Fijian waters onboard a cruise ship. Find all your options on this list of stunning wedding spots on Denarau Island.
Wyndham Resort Denarau Island
Radisson Blu Resort Fiji
Captain Cook Cruises
The Westin Denarau Island Resort & Spa
Sheraton Fiji Resort
Sofitel Fiji Resort
Hilton Fiji Beach Resort & Spa
What are the best honeymoon resorts on Denarau Island?
Denarau Island is just a short drive from Nadi International Airport, making it one of the easiest places for your guests to get to in Fiji, as well as a great honeymoon destination if you only have a short time for your wedding. 
A five-star Fiji resort adds class to your wedding and makes your honeymoon memorable. 
Check out the wedding and honeymoon resorts on Denarau Island and start planning your special occasion in paradise.
Wyndham Resort Denarau Island
Hilton Fiji Beach Resort & Spa
Sheraton Fiji Resort
Sofitel Fiji Resort
The Westin Denarau Island Resort & Spa
Radisson Blu Resort Fiji
What are the best fine dining restaurants in Denarau Island, Fiji?
The fine-dining restaurants in Denarau are perfect for special occasions, trying something different from the typical resort buffet or inspiring the foodie within you.
Fiji is not typically known for its fine dining, but there are still a few establishments with a la carte menus, impeccably presented dishes, and exceptional service. 
We have selected the best fine dining options on Denarau Island in this list of fine dining restaurants.
Lomani Wai
The Kitchen Grill
Salt Restaurant
The Rhum-Ba
Signature Tables
Ports' O Call
What are the best hotels on Denarau Island?
Looking for accommodation on Denarau Island? You have a fantastic selection of five-star resorts and stylish apartments to choose from. 
Almost all resort hotels have waterfront locations, while the apartments are within walking distance of the busy Port Denarau Marina. 
The list includes all the best hotels on Denarau Island:
Oasis Palms Hotel
Wyndham Resort Denarau Island
 Hilton Fiji Beach Resort & Spa
Sheraton Denarau Villas
The Terraces Apartments
Sheraton Fiji Resort & Spa
The Palms Apartments
The Westin Denarau Island Resort & Spa
Radisson Blu Resort Fiji
Sofitel Fiji Resort & Spa
Best Things To Do In Denarau Island, Fiji
1.Take Her to Dinner
2.Spa Maya
3.Make the most of your Resort Facilities
4.VOU Hub for Arts & Culture Activities
5.Do Some Kayaking
6.Take a Sunbath in Natadola Beach
7.Spa Denarau
8.Mini Golf & Bungee Tramps
9.Splash out at the Big Bula Waterpark
10.Do a Skydive
11.Eat at the Beach Bar and Grill Restaurant
12.See the Islands from the sky
13.Hike at the Sigatoka Sand Dunes National Park
14.Get the Kids Involved in Kids' Club
15.Catch a Cultural Show
16.Go fishing
17.Visit Taveuni Hill Fort
18.Set off on an Island Adventure
19.Explore Fijian Cuisine with Flavours of Fiji
20.Cruise to the Mamanuca Islands
21.Cave tour of Cannibals Cave
22.Visit Denarau Golf and Racquet Club
23.Visit Momi Bay Battery Historic, Park
24.Take a tour of Kula Eco Park wildlife sanctuary in Sigatoka
25.Visit Port Denarau
26.Go Jet Skiing
27.Get Some Retail Therapy
28.Shop, Dine and Drink at the Port Denarau Marina
29.Unwind in One of the Resorts' Adult-Only Areas
30.Book a Daytrip to the Islands