The month of May in Bar Harbor, Maine, is one-of-a-kind for its ideal combo of soothing moderate chills in the weather with the perfect swaying breezes. Many of the travel freaks might be up for a Bar Harbor trip, but are you the one who still needs help exploring the best things to do in Bar Harbor in May?
Don't worry, as we've done all the research for you! We'll take you through our ultimate pro tips to help you enjoy your most happening Bar Harbor trip and make everything picturesque for you!
Best Things To Do in Bar Harbor in May
Whether you are a bee-in-a-bonnet or a pure travel fanatic, the great Bar Harbor gateway has something special on Mays for each of you, so without further delay, let's dig in!
You May Also Like: 

Bar Harbor Ghost Tour Guide

When Can You See Whales in Bar Harbor?

Best Things To Do In Bar Harbor Each Month

Does Bar Harbor Have a Downtown?

Best Movie Theaters In Bar Harbor

How Do I Spend A Day In Bar Harbor?
1. Don't Miss Out on the Ritzy Maine Lobster Roll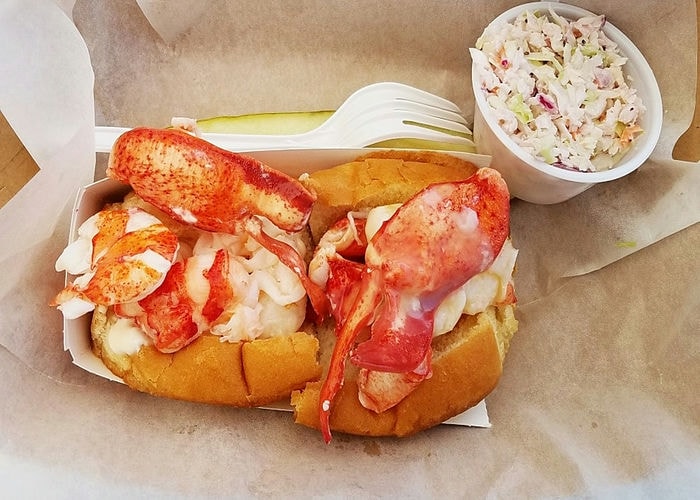 If you're up for some riot of flavor around Bar Harbor with the chilling weather of May, then you should consider visiting the Stewman's Lobster Pound and Tan Turtle. Your trip would fail if you didn't try out the Maine lobsters! 
Numerous seafood varieties, such as 20-ounce steamed Maine Lobster, scallops, buttered potatoes, and blueberry pies, will awe you. But to celebrate life, just come to the Thirsty Whale Tavern and gift yourself a lobster roll or Haddock Fish and chips; just worth it would be an understatement for its heavenly taste. They also have a wide range of beer. 
And guess what? May-October is the month when you'll get all lobster shacks serving! Even Bar Harbor offers walking food tours as well.
Most hyped attractions:
-Special bevarage like Basil Lemon Gimlet.
-Unique menus with chowder, salads, and different types of burgers.
Lobster roll here typically costs: $21
2. Spot The Ultimate Beauty at Acadia National Park
It's one of the best things your beautiful eyes could witness! There's something in Acadia for people in every age group! This park itself is an all-in-one package. 
From the vistas of the Pond House, mesmerizing coastline, and posh chain stores to the leisure dunes of pink granite and broken shell sand beach, it has all covered for you! Remember to stay here for a couple of days to make the fullest of your best things to do in Bar Harbor in May. 
However, you should be cautious while driving at night because if you cross speed limits at the park, you might encounter unwanted situations.
Most hyped attractions:
-Hiking at the Bubble Rock, Beehive, and Thunder Hole. The best part is Thunder Hole offers a stunning 40-foot spray of water.
-Drive to the Cadillac Mountains but watch out as the temperature tends to get lower as you move higher.
-Breathtaking views of sunsets, nostalgic homes, and oceans.
-Offers up to 14 mountains for hiking and biking with scenic views for miles of trails and the most beautiful horse-drawn carriages.
-Photographers at the rocky cliff waiting to make your trip more memorable.
Entry Fee: Starts from $3.85 (varying rates for group visits, kids, seniors, camping, and with vehicles) 
3. Opt for Whale Watching at the Atlantic Ocean
Witness the magnificent beauty of the Atlantic Ocean with the scenic views of whales diving like the picture-perfect Instagram posts. 
And if you're on a May month trip, congratulations, as humpbacks, minke, and finbacks whales are seen in this season. Ensure your venture is on a bright clear day to make the most of it.
Most hyped attractions:
-Atlantic Puffins, vibrant pigeon-like species that will wonder you with their swims and flies.
-Cute nests of puffins with granite rocks complementing the view.
-Apart from whales, you can also view seals, large tunas, sharks, plankton, eels, pilot whales, and orcas.
Entry fee: Different cruise brands offer different ranges, so contact the one with your desired price.
4. Frenchman Bay: Your Stop For Staggering Views
Go for a kayak tour on Frenchman Bay with your family and enjoy the serene views of the coastline, the surrounding mountain, and the island. Trust us on it; nothing beats the vibe of paddling kayaks on your own while experiencing such heavenly views. 
However, remember to get warm attire, as Frenchman Bay during May is colder. And if you're hunting for romantic things to do in Bar Harbor, Maine, then there can't be a better option other than Frenchman Bay. 
It has breathtaking paths and blue water where you can enjoy scintillating views with your loved ones while cruising and dining in nearby restaurants.
Most hyped attractions:
-Walk through the scenic streets and trails.
-Energize your soul with a boat sailing through the eye-soothing blue water and view the heavenly scenes of Bar Harbor.
-Dolphins, harbor seals, and ocean birds to welcome you!
-Unreal and variety of kayaking experiences.
Entry fee: Frenchman Bay facilitates a free entrance.
If you're considering staying long in Bar Harbor, head off to the Harborside Hotel, Spa, and Marina, it offers an exquisite Bar Harbor Club, available only for its guests. Its per night charge is a hiking $220; however, you might incur extra charges if you opt for the spa! 
This exclusive two-story pool site club will allow you to relish top-notch meals, a posh tennis court, an in-house restaurant, a fitness club, and private balconies with heavenly views of Frenchman Bay. And since it's pretty breezy during May, you can dive into the lavish pool if you're up for a different chilling kick!
If you're more on the wallet-saving side, you can opt for the Belle Isle Motel, which starts at an affordable $121 per night and has the necessary amenities. It is only a stone's throw distance from Acadia National Park.
5. Your Heart's Atrium: Abbey Museum
If you're a history buff, dare not miss this museum! With their classic accumulation of Wabanaki artifacts, educational exhibits, interactive collections, and crafts, they symbolize the culture and history of the Wabanaki people. 
The iconic place is ideal if you've kiddos with you. This museum has two locations; we recommend the one at Bar Harbor downtown.
Most hyped attractions:
-Mid Mays and Abbey Museum combine for a win-win situation for the exquisite Indian Market and its arts, food, and customized jewelry collection.
-You can enjoy many workshops and events that reminisce the beauty of the Wabanaki tribe.
Entry fee: ranges from $7-19.8 (varying for different age groups)
6. Pay a visit to Bay Island
Go and vibe with nature with this heavenly beauty. Gosh, the surreal tides of it are something that might even heal a broken heart!
Whether on a walk or a drive from land Bridge Street, don't miss out on the relaxing site across the pristine water. We bet it's one of the soothing free things to do in Bar Harbor, Maine, that'll surely give you a mesmerizing experience.
Most hyped attractions:
-Picturesque view of Bar Harbor while hiking forests and reaching the island's highest peak.
-Jaw-dropping island views from the top of the land bridge.
Entry fee: Free
7. Give Lulu Lobster Boat A Go in this May
Wait, Bar Harbor without sightseeing of real lobsters? Ugh no! You can't imagine your May trip without it! 
The local fisherman around the Lulu lobster boat will enlighten you with information in an exciting way on how these lobsters are a crown jewel of the Bar Harbor. 
They'll guide you about all of the exciting lobstering, and yes, if you get tired, you can also opt for a restaurant near the waterfront, giving yourself a treat of mussels or traditional baked lobster.
Most hyped attractions:
-A fresh live telecast on how they go fishing for the lobsters.
-Traditional boat ride, so yes, some spilling and splashing on the blue water, just the right way to tickle your heart.
-Sneak peeks of wildlife with the picture-perfect sites in the boat journey.
Entry fee: Starts from $41 (varying)
8. Blow Your Little Noggins with Olis Trolley
Are you looking for unusual things to do in Bar Harbor, Maine, which is unique yet funky? Then head off to this lively red trolley, where you'll get a hint of elegance from the 1945s with a feeling of a traditional visit. 
But our pro tip to you would be to confirm your seats beforehand, as the place is always in a rush, and tickets get sold damn quickly. 
Most hyped attractions:
-You can see the most famous sites of Bar Habour while hopping leisurely in the trolley without battling with the traffic.
-Guided and narrated tours are there, so you're good to go on exploring the lush vistas of Maine.
Entry fee: Age 12 and under $13, Adults: $18 (rates vary)
9. Bar Harbor Beer Works: Your Way to Maine's Nightlife
Voila, good news for you May visitors; this brewery opens from May through October. Apart from it, you can also enjoy exploring the hyped yet family-friendly Bar Harbor pubs and bars to relish some freshly crafted margaritas and cocktails. 
This beer club facilitates fun-filled Maine grubs while providing you with an experience of unforgettable nightlife in Bar Harbor. So if you're up for exploring things to do in Bar Harbor, Maine, at night, count on this without a doubt.
Most hyped attractions:
-Live music with the beautiful gallery.
-Insta-Worthy views of the outdoor seats with a perfect family-friendly ambiance.
-Extensive options for dinner, from signature sandwiches, and salads, to French bread pizzas.
As for the price, you can view their online menu on their website.
10. Go Beyond the Sea with Ed's Dive-In Theater
As we said before, Bar Harbor owns chilly weather during May. But hey! Don't be upset; you can still go to the sea bottom without worrying about the cold water and weather! 
That's when this magical theater comes to the rescue. 
Located at the George B. Dorr Museum of Natural History premises, this theater visit is undoubtedly one of the best things to do in Bar Harbor in May as you can reach the sea bottom without getting sea-soggy; that goes perfectly with the moderately chilling May weather. 
The fun part is you get to push the diver, named Ed, and watch him having a surreal experience underwater, which will be a joy and unsurpassed memory for travelers of all age groups, especially kids.
Most hyped attractions:
-Hearing narrations on how the diver unfolds the sea bottom.
-Visitors can look at the unique findings that the diver catches with real-time video.
-Virtual water adventure while learning oceanography.
-You get to hold the sea species like crabs and starfish for real on this 2-hour underwater party!
Entry fee: 
| | |
| --- | --- |
| Age Group | Fee |
| Adult | $40 |
| 65 and older | $35 |
| Under 12 years | $30 |
| Under five years | $15 |
11. Submerge Your Travel Urge at the Egg Rock Lighthouse
Are you someone who's come up to Bar Harbor for places where you can get some fresh striking clicks? Then what else can be better than the super charming Bay Harbour lighthouses? 
Your trip would be an incomplete one without it. You can enjoy the impressive scenes of this stunning 19th-century lighthouse, along with views of the rocky shore and Frenchman Bay. 
Even though it's one of the best things to do in Bay Harbour in May, the site has yet to be made public, so there are no chances of exploring its interior currently. 
Alternative options can be hopping to the top of Cadillac Mountain or sailing boats, which can help you enjoy the serene views of the lighthouse.
Most hyped attractions:
-Beautifully sits atop 12.5 acre Egg rocks where the blue waters complement its beauty.
-Rustic wooden houses, rocky shore, and hills all combine to make your eyes view something magical.
-Explore the scenic small islands from one of the lighthouse cruises.
Entry fee: Boat charges (varying)
12. Soak in the View of Nature with the Shore Path Walk
Are you looking for a slice-of-paradise-like feeling? Then don't mind visiting this 100-year-old iconic path! This path gets even more beautiful during Mays, and we are sure you won't regret walking through the beautiful miles, with wild red roses around in breezy weather and unreal views. 
But yes, early risers are likely to get the upper hand, for this place gets even more beautiful in the early mornings.
Most hyped attractions:
-Aesthetic movie-like benches and old fences around just like the picture-perfect one.
-Scenic views with rocky coastlines, waterfront resorts, historic buildings, and peaceful winds.
-Lavish green vistas surrounding Agamont Park; you can even have a mini picnic here.
Entry fee: Free
Final Words
Yohoi!! Well, there you've it all on the- best things to do in Bay Harbour in May, so what are you waiting for? 
Pack your baggage and plan the most desired Bar Harbor trip this May with our article as your guide to enjoy your itinerary to the fullest! 
From the perks of Bar Harbor watersports to the charming street stores, sidewalks, ice cream, seafood fiesta, seafront, and whatnot? Bar Harbor gifts it all! 
And did you notice? Mays are one of the best seasons for a Bar Harbor venture; the upper hand is you get a relaxing, less crowded trip on Mays. 
However, you should take precautions like carrying medicines because some visitors face motion sickness issues during whale watching. Also, when you visit the most hyped Acadia, be extra careful about the driving speed limits at night. 
The summers at Bay Harbour are also beautiful but too crowded during the season. Winters are nice, but you'll get fewer facilities, while Fall is the season that might be your savior in admiring beautiful Maine!