Kushita is a great place to visit in Khulna Division. It has many tourist attractions to offer. Hope you guys will like the post about the best visiting places in Kushtia, Khulna.
Mind-Blowing 6 Best Visiting Places in Kushtia, Khulna You Should Witness

1.Lalon Shah's Shrine/লালন শাহের মাজার
Image

The shrine of Fakir Lalon Shah can be found in Kumarkhali Upazila of the Kushtia district. Lalon Shah used to teach his disciples principles and spiritual teachings at Chheuria in Kumarkhali Upazila. 
He used to organize a festival every winter at the Akhara. Where thousands of disciples gathered, and there was music and discussion. 
This is the place where Lalan Shah was buried after his death. After his death, a meeting place or arena was built at his burial place. 
Rows of graves of his disciples surround this tomb. Fakir Lalan Shah's disciple and countless Bauls from across the country and abroad gathered at this Akhara on a special date to celebrate the festival.
Lalan Mela / Lalan Dol Utsav
Lalan Mela is held twice every year. Once during the Festival of Dol Purnima (from March 9 to March 11 of the year). 
And once again, on the 1st of the Month of Bengali Kartik (October 16), there was a huge Lalon Melaat Lalon Akhara. 
His disciples came from all over the country to the Lalon Mela. The festival of Baul songs goes on overnight. On this occasion, the shrine is decorated with colors. Lighting, arching, and huge shamiana are hung. 
At the same time, Grameen Mela is organized. Lalon Mela attracted visitors from all over the country and abroad.
You can also read the article about Khulna's main city and its attractions that you can see. The 13 Best Khulna City Tourist Spots To Visit In 2021
People Also Read: 6 Must Visited Meherpur Tourist Places You Should Go
2.Zhoudia Shahi Mosque/ঝাউদিয়া শাহী মসজিদ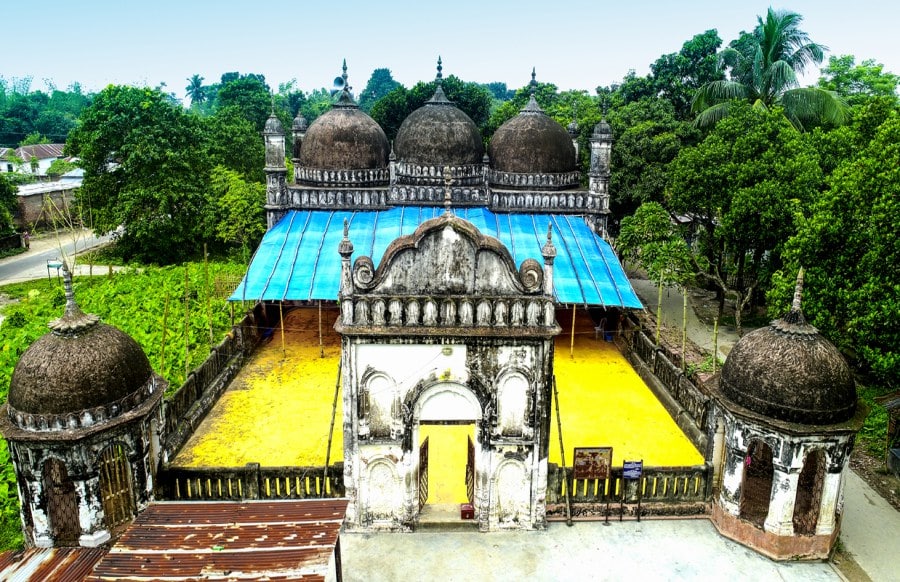 Image

The Zhoudia Shahi Masjid (Jhaudia Shahi Masjid), located in Zhoudia village, 22 km from Kushtia Sadar Upazila, is a historical, archaeological artifact. 
Although the exact construction of mosques built of bricks, stones, sand, and Chinese soil is unknown, there is a lot of folklore about the mosque. 
Legend has it that the Zhoudia Shahi Mosque has been miraculously built. According to many, during emperor Aurangzeb's reign, King Sufi Adari of Iraq built hideouts in the region to propagate Islam.
Later, he built this mosque in Jhadia for worship. The Anindya Sundar Jhodia Shahi Mosque is currently known as one of the oldest architectures in Kushtia.
The main structure of the artistically crafted mosque has three domes, three doors, and three queues for prayer. And five beautiful domes on the top of the mosque and two minarets can be seen at the entrance door inside. 
There are also two spectacular windows built of lime and surki on the north and south sides of the Zhoudia Shahi Mosque. 
The mosque is built with earthen tally, lime, and surki and is quite cold inside. But the main feature of the walls is decorated with the alpanas of the mosque. 
Next to Shahi Masjid is the tomb of Sufi Sadhaka. The mosque was registered with the Bangladesh Archaeological Department in 1969. 
Presently, numerous Muslims and visitors from far and wide come to the mosque to offer prayers and visits.
Kushtia and Jashore are in the same division both are under Khulna Division. You can read the best places to visit in Jashore here. The Best Tourist Places To Visit In Jashore District, Khulna
People Also Read: Wonderful 11 Top Tourist Attractions To Visit In Jhenaidah
3.Lalon Shah Setu/Lalan Shah Bridge/লালন শাহ সেতু
Lalon Shah Setu (Lalon Shah Bridge), connecting Kushtia and Pabna districts on the Padma river, is located next to Hardinge Bridge, 31 km from the Kushtia district. 
Lalon Shah Setu has been named after Guru Fakir Lalon Sai, the famous Baul Sadhaka of Kushtia. 
The Lalon Shah Bridge, also known as the Pakshi Bridge, is one of the largest road bridges in Bangladesh. The foundation stone of the 7.5 m two-lane bridge was laid on January 13, 2001, and opened to full traffic on May 18, 2008.
Lalon Shah Setu, 1.8 km long and 18.10 meters wide, has established road connectivity between Pabna and Kushtia. The total span of the bridge is 17, and the distance between each span is 109.5 meters.
The two lanes of the bridge have been separated through a divider. 
Lalon Shah Setu

contributes to the economic and transport system and the north-west connectivity with the south-west of Bangladesh.
The Lalon Shah Bridge has become a popular sight in Kushtia due to the Padma wave, the form of Bengal covered in green, and the pleasant natural environment of the strong wind. 
And so every day, numerous visitors come to spend time in the beautiful natural surroundings of the bridge.
People Also Read: Amazing 8 Top Chuadanga Tourist Spots To See
4.Mir Mashrafe Hossain's Vastuvita/মীর মশাররফ হোসেনের বাস্তুভিটা
Image

Mir Mashrafe Hossain's vastuvita is located in the village of Lahinipara in Kushtia. He was an essayist, novelist, and playwright once popular in Bengal. 
Mir Mashrafe Hossain was born on November 13, 1847. His father, Zamindar Mir Moazzam Hossain, learned Arabic and Persian from a Munshi posted in his home. 
After that, his education ended by studying at Kushtia School, Krishnanagar Collegiate School, and Kalighat School in Kolkata.
Mir Mashrafe Hosser took charge of his father's estate at the beginning of his career. He then started his job and once quit his job and moved to Kolkata in search of luck. 
The total number of books written by Mir Mashrafe Hossain, the pioneer of 19th century Bengali Muslim writers, is about 37. 
He has written various classic prose, verses, essays, plays, and novels one by one in pure Bengali. At that time, he was the best playwright for the play 'Zamindar Darpan.'
There is currently a primary school, a secondary school, a library, a museum, and an auditorium surrounding the poet's birthplace in Lahinipara. 
Every day, numerous domestic and foreign tourists arrive at The Vastuvita of Mir Mashrafe Hossain.
People Also Read: Great Significant Bagerhat Tourist Spots Any Traveler Must Visit
5.Tagore Lodge/টেগর লজ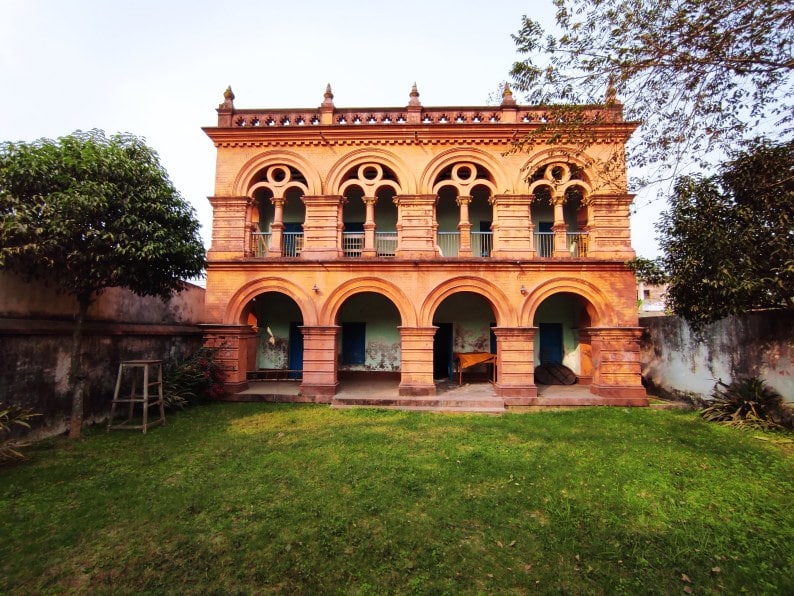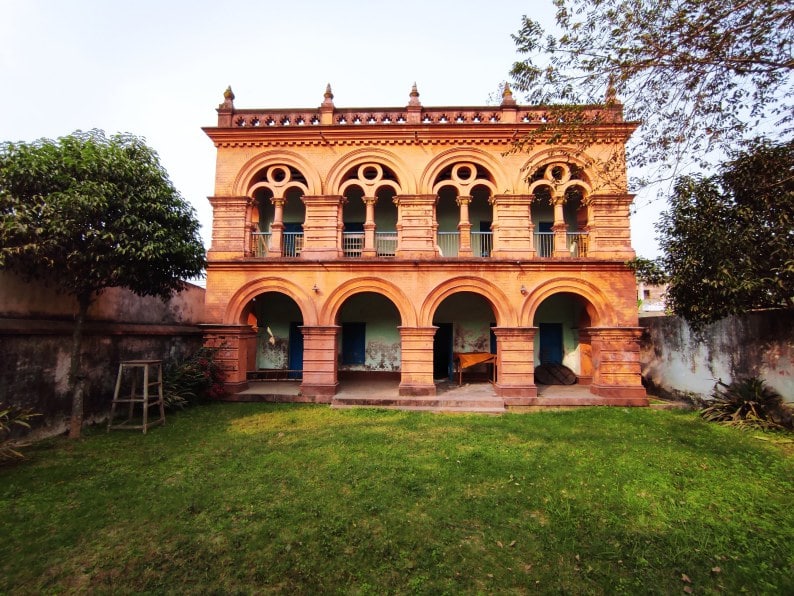 Image

The two-story edifice of poet Guru Rabindranath Tagore is located at Milpara in Kushtia city. 
1895, Kobiguru Tagore and company came to Kushtia and built the Tagore Lodge building, still standing today.
A bust of Kobiguru has been installed at the entrance of Tagore Lodge, established on nine Katha lands. 
A large hall on the ground floor and one of the three rooms on the top floor has a copy of the books written by the poet guru and 12 paintings by the poet guru. 
There is a lovely twisted iron staircase in the corner of the hut on the west side to get up from the first floor to the second floor.
Inside the Tagore Lodge are a green grass-covered courtyard and a small open platform. 
Various cultural programs, including Rabindra Jayanti, were organized on this open platform. 
At Tagore Lodge, the poet wrote numerous poems, which were later published in 'Khonika' and 'Kotha o Kahini.'
People Also Read: 8 Best Places To Visit In Satkhira, Khulna That Will Drop Your Jaw
6.Rabindranath Tagore's Hut and Museum/রবীন্দ্রনাথ ঠাকুরের কুঠিবাড়ী ও জাদুঘর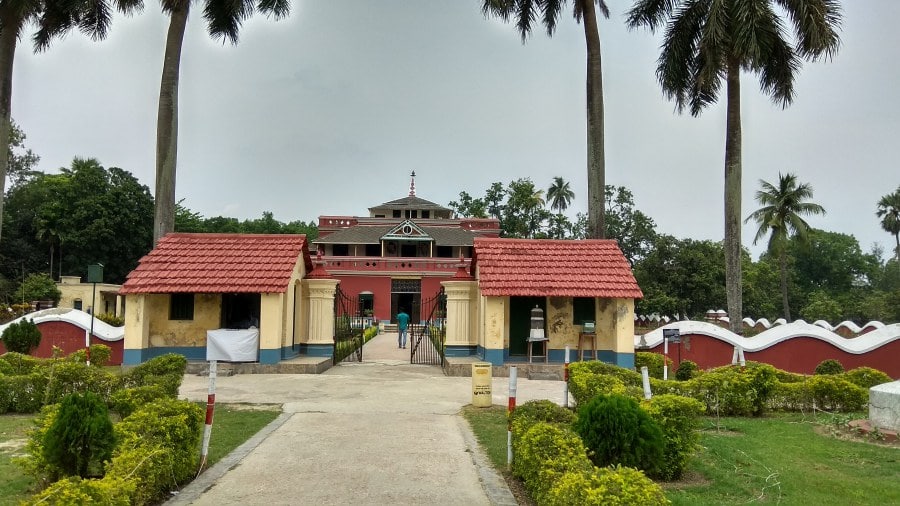 Image

Shilaidah Rabindra Kuthibari is the historic house in memory of poet Guru Rabindranath Tagore in Khoreshpur village of Shilaidah Union of Kumarkhali Upazila Kushtia. 
The distance from Kushtia city to Rabindranath Tagore's hut is only 15 km. The main building of Rabindra Kuthibari of about 33 bighas size has been constructed on 2.5 bighas of land. 
Rabindranath Tagore's hut with 3 floors has a total of 18 rooms. On the third floor of the building was the poet's writing room. 
And from the roof of this hut, the poet enjoyed the sunrise, sunset, and Jyotsna.
In 1807, Rabindranath Tagore's grandfather Prince Dwarkanath Tagore acquired the estate of the region. 
Later, from 1889 to 1901, Rabindranath Tagore used to come here on irregular breaks, and at that time, he used to run zamindari work. 
From this hut, he wrote Sonar Tari, Chitra, Chaitali and started translating English into Gitanjali poetry.
Since 1958, Shilaidah has been under the supervision of Rabindranath's Kuthibari Archaeology Department. It is currently being used as the Shilaidah Rabindra Kuthibari Museum. And the museum has a place in the museum with pictures of different ages by poet Rabindranath Tagore. 
Two speedboats named Chanchala and Chapla, 8 Behara palanquins, paltoons, tea tables, wooden chairs, sofa sets, couches, and various paintings by the poet.
People Also Read: Most Popular 9 Best Narail Tourist Spots To Visit
Schedule & Entry Ticket Price Of Rabindranath Tagore's Hut and Museum
Rabindranath Tagore's Kuthibari Museum is open every day from 10 am to 6 pm during summer. And it is open every day from 9 am to 5 pm during winter. 
But the museum is closed on a temporary break from 1 pm to 1.30 pm every day. Rabindranath Tagore's Kuthibari museum is closed every Sunday of the week and is open from 2 pm on Monday.
Rabindranath Tagore's Kuthibari Museum entry ticket costs Rs 15 per person, and the entry ticket for secondary level students is Rs 5. 
The ticket costs Rs 50 for visitors to the SAARC country and Rs 100 for all other foreign tourists.