Explore the hidden gems of Jessore with our guide to the top tourist spots in the region. From historical landmarks to natural wonders, discover the best places to visit in Jessore and plan your next adventure.
Jashore has many interesting tourist spots to offer you. In this article, we have tried to cover all the best tourist places to visit in the Jashore district either solo or with family and friends.
Different opinions are available about the origin of the name Jashore. Historians are at odds about the naming of the district. Many believe that the word Jashore originated from Arabic 'Jassar'.
This means Sanko. Once upon a time, all over Jashore, the river was full of rivers. Sanko was built on rivers or canals.
Jashore has many tourist attractions to offer. So if you ever headed to Jashore or live there, don't miss visiting these beautiful places. Here is the list of best tourist places to visit in Jashore district

, Khulna.
The 11 Best Tourist Places To Visit In Jashore District, Khulna

How to go to Jashore?
You can travel from the capital Dhaka to Jashore by road, rail, and air.
Jashore by bus from Dhaka: Several AC/non-AC buses (Sohag, Green Line, Shyamoli, and Eagle transport) ply from Kalyanpur, Gabtoli, and Kalabagan Dhaka. Dhaka To travel to Jashore by non-AC bus, the fare is Tk. 350-500, and that of AC bus is Rs. 800-1000.
Jashore by train from Dhaka: The Inter-city Sundarbans Express train left Dhaka's Kamlapur railway station at 6.20 am every day except Saturday, and another inter-city train called Chitra Express left for Jashore at 7 pm, 6 days of the week except for Monday. The ticket price of the train is Tk. 350-1260 per class.
Regent Airlines, United Airlines, and NovoAir regularly operate flights on the Dhaka-Jashore route from the domestic terminal of Dhaka Shahjalal International Airport.
Where to stay in Jashore?
Among the good quality residential hotels in Jashore city are Hotel City Plaza International, Hotel Hasan International, Zabir International Hotel, Hotel RS International, Hotel Shams International, etc.
There are also several government rest houses and several residential hotels of general quality in the district city.
Where to eat in Jashore?
You can try the famous Jamtala sweets of Jashore, the para Sandesh of palm jaggery, and the various cakes called "Pittha." If you have a chance, taste malai tea at Dharmatala and the famous Chui Jhal of Chuk Nagar.
Beautiful Tourist Places Jessore District, Khulna
1. Jashore Tourist Spot: Jess Garden Park/জেস গার্ডেন পার্ক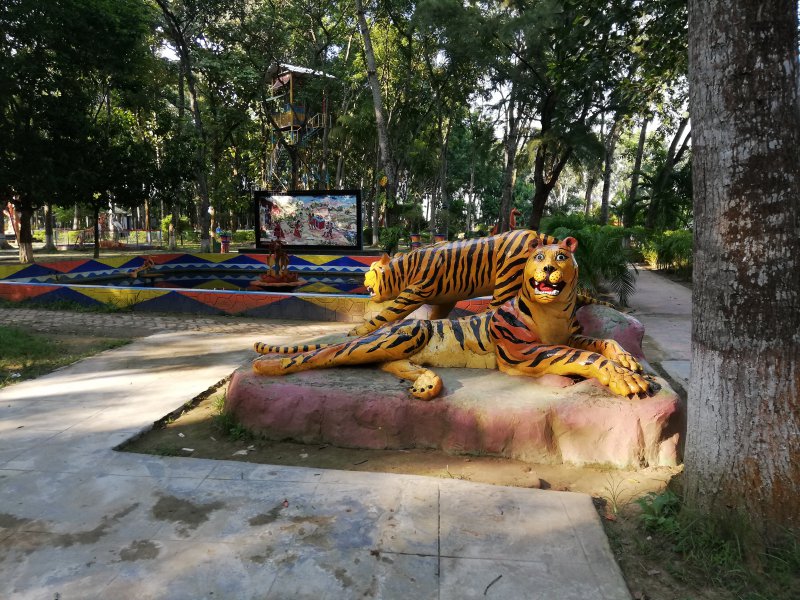 Jess Garden Park is located in a beautiful and quiet environment near Bahadurpur High School, just 3 km from the Jashore district. In 1992, the late A.S. M Habibul Haque Chuni founded the park on about 12 acres.
Jess Garden Park has playgrounds for children, parks, nagardola, chair charki, horse charki, mini trains, pedal boats, prayer venues, canteens, and toilets with modern facilities. 
Crocodiles and buck kilns have been created in the lotus flowering water bodies of the park to welcome incoming visitors. Apart from this, giant horses, elephants, tigers, lions, kangaroos, forest men's toys are also scattered in different park parts.
The mini zoo at Jess Garden Park, surrounded by cool shadows, has various birds, animals including tigers, deer, crocodiles, bears, peacocks, rabbits, python snakes. 
In addition to decorators and cooking arrangements for picnics, Jess Garden Park has 25 picnic camps, 10 resting rooms, public safety, and car parking facilities. There are also unique rest houses in the park for VIPs.
Jess Garden Park Costs
Jess Garden Park is open to visitors from 9 am to evening on 7 days of the Week. The entry ticket to the park is priced at Rs 40, and the mini zoo ticket is priced at Rs 10. The cost of rides in the park ranges from Rs 10 to Rs 50 per person.
It will cost Rs 5000 to Rs 7000 to rent a Banorupa bungalow for a picnic of 50 to 100 people at Jess Garden Park. And for 50-100 people, it will cost Rs. 6000-8000 to rent Bonobilash Bangalow.
Contact
People Also Read: 6 Must Visited Meherpur Tourist Places You Should Go, Khulna
2.Collectorate Park/কালেক্টরেট পার্ক
Jashore Collectorate Bhawan complex located at the district headquarters is more popular as one of the entertainment centers in the city. It is one of the most famous places in Jashore.
Jashore Collectorate Park, formerly known as Niaz Park, has been built on the river Bhairav next to the collectorate building. Niaz Park is a silent witness to various movement struggles of the glorious past.
Next to Collectorate Park in Flower Park. A pond covers three bighas of space inside the park along with various types of flowers. 
Brick-spreading paths, seating benches, free WiFi facilities, and different types of colorful flowers like marigold, Chandra Mallik, Dalia, sunflower, Bluestar, rose, cosmos, zinnia, etc. have added new dimensions to the entertainment of visitors to the park.
People Also Read: 6 Top-Rated Tourist Places In Magura District That You Want To Visit
3.Madhusudan Dutta's House Modhupolli/ মধুসূদন দত্তের বাড়ি মধুপল্লী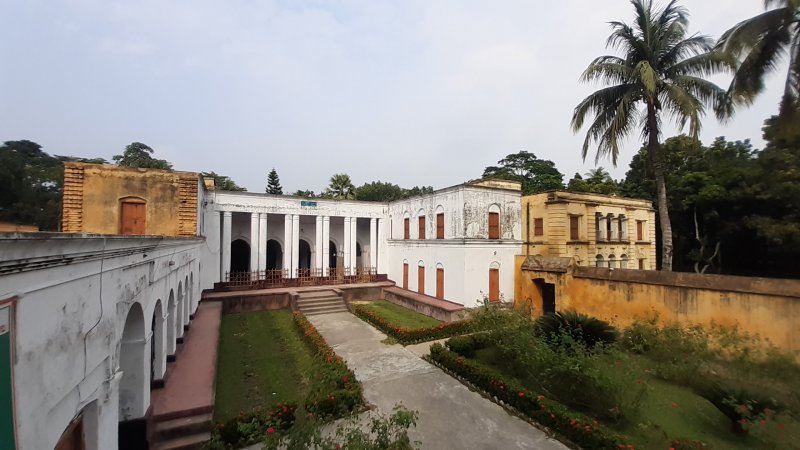 Michael Madhusudan Dutta was born on January 25, 1824, in Sagarkhadi village. However, Ram Kishore Dutta, great-grandfather of Michael Madhusudan Dutta, lived in Gopalpur Gram in Khulna district. 
Later, Michael Madhusudan Dutta's grandfather Ramnidhi Dutta shifted to Sagardari village in Jashore, purchased the estate, and established the temple.
There is a naval ghat and an almond tree on the banks of the Kapotaksha river adjacent to Michael Madhusudan Dutta's house. This ghat is called the poet's farewell ghat of the great poet. 
It is said that when the poet returned to his home after converting in 1862, the family abandoned the poet. The poet then pitched a tent under this ghat's almond tree, stayed for 14 days, and went to Kolkata.
On October 26, 1968, the then Archaeology Department declared and renovated Madhusudan Dutta's two-story edifice for his excellent construction style. 
In 1996, the boundary wall, the entrance gate, a platform, the reception structure, and renovation gave the house its present form.
Madhupalli Schedule: 
Michael Madhusudan Dutta's house is open to visitors from 10 am to 6 pm every day from April to September and October to March from 9 am to 5 pm every day. Madhupalli is completely closed every Week Sunday and all public holidays.
Entry Ticket Price: 
Any domestic tourist has to collect entry tickets at Rs 10 to enter Modhupolli. And foreign tourists have to spend Rs 100 on entry. In Modhupolli, parking costs of Rs 100 for buses, Rs 50 for minibusses and jeeps, and Rs 10 for motorbikes have to be paid.
People Also Read: Amazing 8 Top Chuadanga Tourist Spots To See, Khulna
4. Chachra Shiva Mandir/চাঁচড়া শিব মন্দির – A Historical Place in Jashore
Located in the Chachra village of Jashore Sadar Upazila, The Chachra Shiva Temple is a historical architectural artifact dating back about 322 years. 
The temple was built by King Manohar Roy of Chachra in 1696. Another small roof has been built on the main rectangular four-story roof of the eight-story-type Chachra Shiva Temple. 
There are three arched entrances in front of the East-facing Chachra Shiva temple. The aesthetically decorated temple has a length of 9.5 meters and a width of 8.13 meters on terracotta plaques. Lime, surki, and square bricks have been used to build the Chachra Shiva temple.
The second volume of the book 'History of Jashore-Khulna' published in 1914 by renowned historian Satish Chandra Mitra mentions the Shiva temple of Chachra in the chapter 'Chachra Dynasty.' 
Various religious ceremonies are organized in this temple every Amavasya and Purnima. Visitors from far and wide also attend Shivratri, Dhol Utsav, Loknath Baba's Paduka festival. 
At present, the Chachra Shiva Temple is listed as a protected structure by the Bangladesh Archaeology Department.
People Also Read: Most Popular 9 Best Narail Tourist Spots To Visit, Khulna
5.Godkhali – The capital of flowers/গদখালী – ফুলের রাজধানী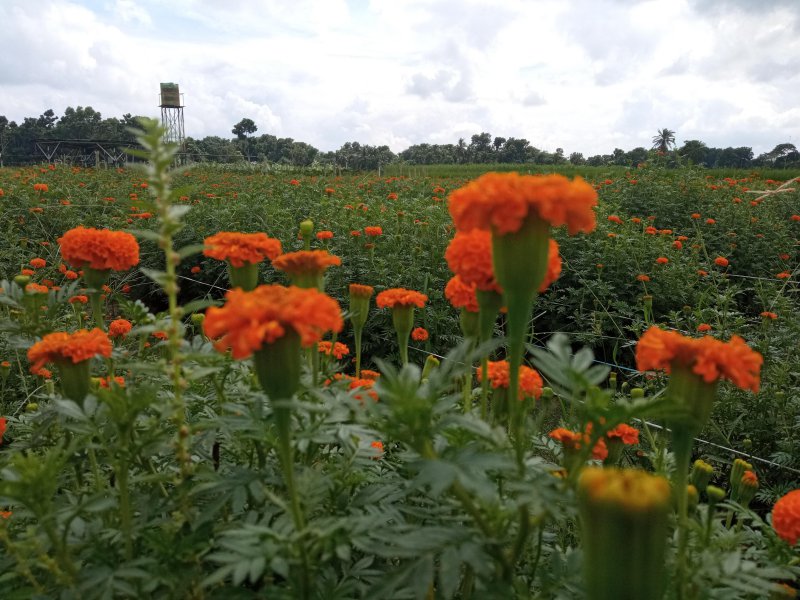 Godkhali is well known as the flower capital of Bangladesh. 18 km from Jashore district city towards Benapole is Godkhali Bazar. Godkhali Bazar is one of Jashore's beautiful places to see and stroll around.
Godkhali's flowers are cultivated on 4,000 bighas, spread over 90 villages in the Jhikargasa and Sharsha police stations, approximately 25 kilometers from Jashore. 
There is no better place to gaze upon the combination of red, blue, yellow, purple, and white flowers on the horizon than in the villages of Jhikargasa and Sharsha. 
There are also flower sweet smells, bee buzz, and colorful butterfly wings that come here with the beautiful everlasting message.
Rajnigandha, roses, gladiolas, and marigold flowers are cultivated on the horizon. From there, flowers were collected and brought to the Godkhali market in bullock carts. 
The best time to go to Godkhali is January and February. Now almost all year round, the beauty of colorful flowers fascinates visitors.
6.Benapole Land Port/বেনাপল স্থল বন্দর
Among Jashore's visiting places Benapole is always on the favorite list. Benapole is a village under Sharsha Upazila of Jashore district located near the Bangladesh and India border. Benapole is a border control-and-search station and a land port known as Benapole land port (Benapole Land Port).
India is known as Petrapole against the Benapole land port operated by the Bangladesh Land Port Authority, including Bangaon Mahukumar in West Bengal. And the railway connectivity between Bangladesh and India is in operation through the Benapole railway station.
The Benapole land port, known as the main hub of land trade in Bangladesh and India, is about 80 km from Kolkata. Approximately 90 percent of the middle trade between the two countries is done through Benapole.
Therefore, there are customs houses at the economically important land port of Benapole to collect duties. The goods trade also runs between the two countries, with hundreds of travelers daily on this land route.
How to go to Benapol?
You can ride a bus, private car, or auto to Benapole land port in Sharsha Upazila from Jashore district headquarters.
Read more: Amazing!! The Top 34 Best Travel Destinations In Bangladesh
7.Floating bridge/ভাসমান সেতু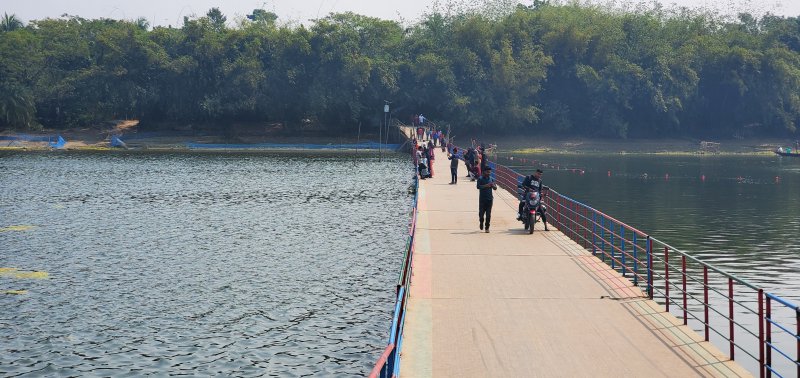 A 1300 feet long floating bridge (Vashoman Shetu) has been constructed at Jhopa Baor in Manirampur, Jashore. The construction of this floating bridge brought some relief to residents of Jhopa village in Manirampur Upazila, which is surrounded by the Kapotaksha River and the Jhopa left.
A few days ago, people had to travel about 10 kilometers without boats. To address the movement, an organization called 'Jhopa Gram Vikas Foundation' was initially formed here.
Members of the Jhopa Gram Vikas Foundation built a 1300 feet long and 9 feet wide floating bridge in about three months with voluntary and villager payments. This floating bridge can currently operate small vehicles like motorcycles and vans.
Security railings have been provided on either side of the bridge, which has been built by throwing steel leaves on about 839 blue floating drums. The result of the wildness of youth creates a different thrill in the mind while moving on this floating bridge.
Many curious people come to Jhopa village to see this first and longest spectacular floating bridge in Bangladesh. A picnic spot has been set up here to preserve the new potential of tourism surrounding the floating bridge. It is one of the top tourist places to see in Jashore.
The Mosque and Eidgah Committee on the eastern bank has arranged for visitors to park. However, if you want to climb to the floating bridge, you have to cut a ticket for Rs 5.
How to go to Floating Bridge?
If you want to see a floating bridge, come to the Jashore district city conveniently from your location. Then you can see the floating bridge when you reach Rajganj Market by local transport from Jashore bus stand.
What to eat
You can try kebabs, fries, pressure, or luchi from the 'Johnny Kebab' at Char Khambar Mor.
Read more: The 12 Best Khulna Tourist Spot To Visit
8. Shrine of Birshrestha Noor Mohammad (Bir Shreshtha Noor Mohammad Mazar)/বীরশ্রেষ্ঠ নূর মোহাম্মদের মাজার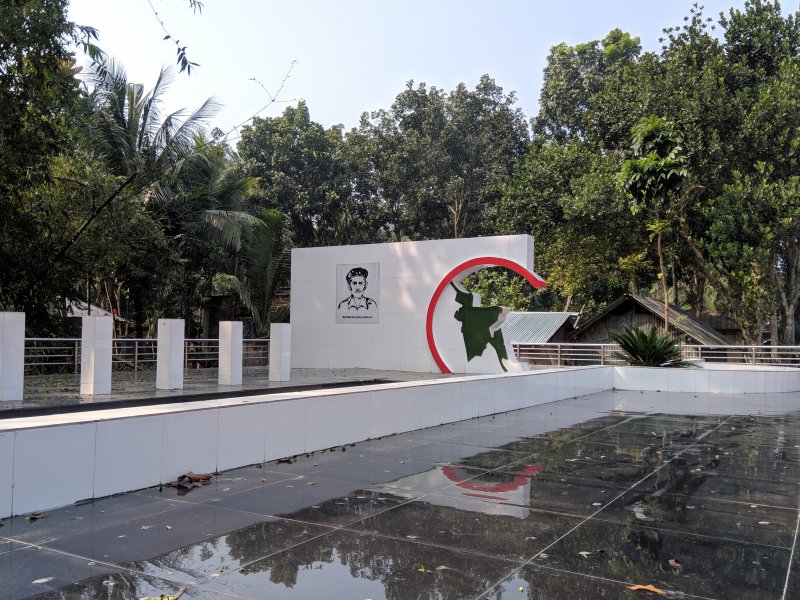 Bir Shrestha Noor Mohammad Sheikh was born on February 26, 1936, in Maheshkhola village of Chandikpur in the Narail district. Noor Mohammad's father's name is Mohammad Amanat Sheikh, and his mother's name is Jenatunnesa.
Noor Mohammad, the son of a farmer, had a lot of interest in various cultural activities like musical theatre. So, on March 14, 1959, he joined the East Pakistan Rifles.
On July 10, 1970, Noor Mohammad was promoted to Lance Naik after transferring from Dinajpur to the Jashore sector. He then participated in the war from Sector 8 in the Liberation War in 1971.
On September 5, 1971, Pakistani forces suddenly surrounded the petrol from three sides and opened fire around 9.30 am while running the standing petrol of four others, including Noor Mohammad, in Goalhati village of Jashore district.
Solider Nannu Mia was shot dead and fell to the ground at one point in the counter-firing by the freedom fighters. Then Noor Mohammad Nannu carried Mia on his shoulder and started firing randomly with the LMG, and the enemy was forced to retreat.
Suddenly a mortar ball hit Noor Mohammad's right shoulder. Yet, he was desperate to save the injured Nannu Mia. Noor Mohammad handed over his LMG and Nannu Mia to soldier Mustofa and passed them in a safe place.
To save the lives of his comrades, Noor Mohammad decided to stop the enemy soldiers with Mustofa's rifle. But, unfortunately, though the comrades were safe, his body was founded later in a bush next to the battlefield and buried in the Kashipur village of Jashore.
How to go to Sherine of Noor Mohammad Sheikh
You can travel from the capital Dhaka to Jashore by road, rail, and air. And from Jashore district headquarters, you can board a bus, private car, or auto to reach The Dihi Union in Sharsha Upazila and go to Bir Shrestha Noor Mohammad's shrine (Bir Shrestha Lance Naik Nur Mohammad Sheikh Majar) by rickshaw.
If you want to break down, you must go from Kamarbari stand on Sharsha Road to Kashipur via Leguna. You can see the tomb as soon as you move forward from the Kashipur stand for two minutes on the left side of your hand.
People Also Read: Mind-Blowing 6 Best Visiting Places In Kushtia, Khulna You Should Witness, Khulna
9.Mirzanagar Hammamkhana/মির্জানগর হাম্মামখানা
Mirza Safsikan was appointed the Faujdar of Jashore in 1649. Bengal Subedar Shah Suja's brother-in-law was his father.
Mirza Safsikan's residence at Trimohini in Kapotaksha and Buribhadra rivers, 7 km from Keshabpur Upazila Sadar, is named Mirzanagar. The Nawabbari in Mirzanagar has a spectacular Hammamkhana, known as Mirzanagar Hammamkhana.
Despite the near destruction of Nawabbari Hammamkhana, it stands as a symbol of the Mughal period in Mirzanagar, and tourists worldwide come to see this.
According to information received from various historians, Nurla Khan appointed the faujdar of the Attar area during the reign of Emperor Aurangzeb.
He dug a trench on the banks of the Buribhadra river and built a fort called Motijheel. Hammmakhana was set up in a part of the 10-foot-high walled fort. The Hammamkhana, designed in imitation of Mughal architecture, has 4 rooms and a well.
With 4 Gambuj, There are two rooms on the west and east sides of the dome built in Hammamkhana. The rooms on the east side, however, were used as squares. Hammamkhana has a square and tunnel on the south side.
It is considered to be Tosakhaana. In 1996, the Bangladesh Archaeological Department declared Mirzanagar Hammamkhana as an archaeological artifact.
How to go to Mirzanagar Hammamkhana?
The distance from Jashore district to Keshabpur Upazila Sadar is about 32 km. You can travel 7 km from Jashore via Keshabpur to Mirzanagar Hammamkhana by any local transport or bus.
People Also Read: Great 11 Significant Bagerhat Tourist Spots Any Traveler Must Visit, Khulna
10.Hanuman Village (Hanuman Gram)/হনুমান গ্রাম
Keshabpur is a known tourist place in Jashore. For what? For an interesting fact. Keshabpur in Jashore is home to about 400 black-faced Hanumans of the Vagabond species, and so the area has become known as Hanuman Village (Keshabpur Hanuman Gram) in Keshabpur.
It is believed that for hundreds of years, 10-15 km of Keshabpur has been covered by rare species of hanumans.
According to anthropologists, although the black-faced Hanuman species was born about 40 million years ago, a small number of Hanumans survived on earth, suffering various setbacks.
At present, this species of hanuman is now found only in Keshabpur in Bangladesh and the Nadia district of India.
20 to 30 years ago, more than 5,000 Hanumans used to roam across Keshabpur. But now, only four hundred Hanumans are alive. And many Hanumans are migrating due to the transformation of their living environment.
In addition, due to lack of trees and environmental reasons, hanumans are beginning to decline due to lack of food and shelter. If this continuity is maintained, only the name will soon become The Hanuman village of Keshabpur. Visiting the Hanuman Gram is one of the best things to do in Jashore.
How to go to Hanuman Village?
The distance from Jashore district to Keshabpur Upazila Sadar is about 32 km. You can travel from Jashore to Keshabpur by any local transport or bus.
People Also Read: 8 Best Places To Visit In Satkhira, Khulna That Will Drop Your Jaw, Khulna
11.Bharater Deul/ভরতের দেউল
Bharater Deul is situated on the banks of Bhadra river in Bharat Bhayana village of Gaurighona Union in Keshabpur Upazila of Jashore district.
The height of the sesame-shaped Deul is 12.20 meters, and the circumference is 266 meters. Bharater Deul is believed to have been built in the 2nd century AD of the ancient Gupta era. Unfortunately, the 1897 earthquake damaged the Deul.
On January 10, 1923, the deul was listed as an archaeological site. A series of excavations led to 94 rooms, a stage, and the evening of deul size between 1984 and 2001.
Apart from the 12 rooms surrounded by 4 wing walls, the remaining 82 rooms are made of Buddhist stupa. And there are 8 more small rooms on each side of the 4 rooms at the top of the stupa.
Among the artifacts from Bharater deul are the faces of women made of burnt clay, designed bricks, earthen Dabba, terracotta ornaments, and fractions of the terracotta of the deities.
The terracotta and brick size used in Bharater deul is the largest of the terracotta and bricks used in all other ancient installations in Bangladesh.
The distance from Keshabpur Upazila Sadar to Deul in Bharat is 19 km. Hence, this archaeological artifact is better known to the residents as Bharat Raja's Deol (Bharat Rajar Deul).
How to go to Bharater Deul?
Though located in Jashore district, it is easy to go from Khulna to Bharat's Deol. First, reach Khulna city by bus or train and come to Chuknagar. From there, you can go to see Bharater Deul in a van or motorcycle.
On the other hand, you have to ride a rickshaw or auto from Khulna to Mohsin Mor. From Mohsin Mor, you can come to Shahpur Bazar, board a van, and go to Bharat's Deul. It is important to remember that van drivers know the place as 'Bharater Del.'
People Also Read: Wonderful 11 Top Tourist Attractions To Visit In Jhenaidah, Khulna
Where to stay in Bharater Deul?
Bharat does not have a night out around Deul. If you want to stay at night, you have to come back to Khulna city. Khulna city has residential hotels of different quality to stay in.
These include Tiger Garden, Hotel Royal, Castle Salam, Western Inn, Hotel Holiday International, and Hotel Millennium.
Where to eat
You can see Bharat's Deol and eat khasi meat from the famous Abbas Hotel in Chuknagar.
Conclusion
Jessore is home to several tourist attractions that showcase the district's cultural heritage and natural beauty. Visitors to Jessore can explore historic landmarks such as the Shaheed Minar and Chanchra Shiva Mandir, take a boat ride on the Kapotaksha River, and indulge in local cuisine at the bustling bazaars.
Jessore is also a gateway to the nearby Bagerhat district, where tourists can marvel at the UNESCO World Heritage Site of the historic city of Bagerhat. The place offers a rich history and diverse attractions. Therefore, Jessore is a must-visit destination for travelers looking to explore the beauty of Bangladesh. I hope you find the article "The 11 Best Jessore Tourist Spots To Visit " helpful.